News

All the latest news from the club this year, including older news that is no longer news, but could perhaps be better described as olds. Previous years can be found from the links below.
---
Rigging Guide Update. Version 12.2. 16th February 2020
The rigging guide has been updated. Following our recent trip, we have updated and improved the topo for Victoria Aven and added a new topo for George Cooper's Aven. All the topos now have QR codes added. If you point a smart phone camera with the appropriate app at the code on a printed copy, it will take you to the appropriate Peakdistrictcaving.info page for access and location information. Some topos have additional QR codes that link to microguides, published by the DCA. If you have a printed copy of the guide, you'll need to print a new one as all pages have changed.
Lancaster Giant's Hole. 15th February 2020
The weather beat us again. The Lancaster Hole trip was canceled. Instead, we went to Giant's. A trip report from Steve PA.
Storm Denis put paid to our original trip into Lancaster today, so a hastily thrown together trip was arranged into Giants Hole Derbyshire instead. Eight members braved the conditions, some opting for breakfast at the Yondermans, while the rest made their way directly to the cave. Des made good use of his recent acquisition (new van), being well protected from the elements whilst getting changed. Not that he's getting soft I'll have you know.

Nine of us made our way to the entrance, the extra body being David who as a temporary member had made the journey from Grimsby as he had not caved for 9 months and never in the UK and wanted to brush up on his srt skills. Boss Aven was tackled initially by some of the party while others went to take a look Garlands and the Wet Inlets, with a view to putting up the rope for a pull through. Sadly they soon realised how gravity and volume, I'm being kind, can conspire against you, so joined the rest of us in Boss Aven. A very pleasant time was spent here with most of us getting up to the top with the aid of the in situ ropes.

Once all were safely back down it was decided for a second attempt on reaching the top of the wet inlets. It's true what they say, perseverance pays off. For those who have not been up there, a fine vadose passage traverses the stream below, which today was quite lively and ends at a sump to its north end and a purged sump the other end, with some fine formations thrown in. A 3 hour trip enjoyed by all with a pint and chips at one of Castletons hostelries.
Some pictures of the trip from Grace.
Gouffre Berger 2020
The club has been issued with a permit to descend the Gouffre Berger in France this summer. We have been there several times before, but this is the first Crewe CPC trip to the cave this century. See the report from the visit in 1983 for an idea of what will be involved. Lots of organising and lots of training to do between now and then.
Peak Cavern. 2nd February 2020
A trip report from Jenny Drake:
Lots of us in Peak Cavern yesterday. Two main trips. One team doing the "tourist" trip, seeing the best bits of the system, including a novice who recently got in touch with the club. The other team was five strong and went up the spectacular Victoria Aven and explored the SRT route down George Cooper's Aven to the vast Echo Aven, with extensive mud formations on the floor. Lots of loose rock around, so great care was needed. Good to see John Gillet underground. We were mostly all out at near the same time, so met up at the George for a drink after getting changed. Tony Seddon's mobile caving shop was at the TSG, drawing out some of our wallets.

Jenny
Women in Adventure Film
The only caving film in the BMC's 2020 Women in Adventure competition. See if you can spot the CCPC members! Made by Antonia and Andy Freem of SWCC. There is a prize for the most watched, so here it is.
First Update of the Peak District Rigging Guide to Version 12.1
The Level 7 / Hope Shaft topo has been updated to remove the grid references. Locations are now on the Peak District Caving site. We discovered that the grid reference to Hope Shaft was out by over 100m. Something that had not been spotted in all the years that the guide has been in existence! In addition, the Pallet Shaft and Hillside Shaft entrances to Nickergrove Mine have now been added to the Peak District Caving site. If you have a printed copy of the guide, then please visit the guide page and download and print the two pages needed to bring your guide up to version 12.1. Thanks to the DCA's Phil Wolstenholme for helping with this.
Peak District Rigging Guide goes On Line
The CCPC Peak District Rigging Guide is now on line. Free to use by all cavers. Accessible by the link in the menu, or here. It has been revised since the eleventh edition, with all the rigging topos redrawn and updated where we know of changes. Several new topos have been added.
Flower Pot to Merlin's Mine. 5th January 2020
Our first official club trip of the year. A through trip from Flower Pot, via Carlswark Cavern, to Merlin's Mine in Stoney Middleton. Tight in places and very sporting. A report from Rob Nevitt:
Six members turned out for this one, Ade, Alan, Dan, Jenny, Steve PA and myself. Alan decided not to do the though trip but offered to put the ladder in Merlin's for our route out and meet us underground at some point. As we found out later after not seeing him rocks had fallen on his hand and shoulder changing his plans. Our route though wasn't as dramatic, but all the tight squeezes, twists and turns made for a good days caving with some of us getting stuck or going the wrong way at some point. We finally emerged looking like chocolate soldiers! Ade tried cleaning up in a grated channel at the side of the road to our amusement. After changing we had a well deserved beer at the Miners Arms in Eyam.

Rob
---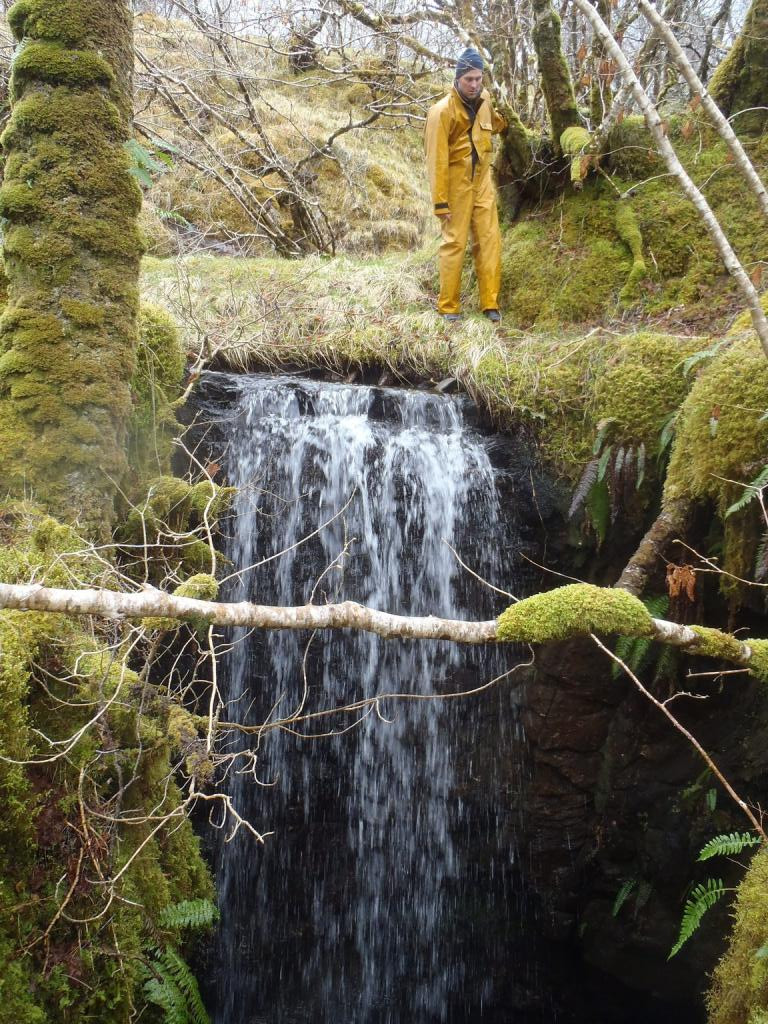 The entrance of Uamh a Bruthaich Chais Fhada in Appin, Scotland. Photo © Jenny Drake 2013.