Newsletters 71 to 80

This page contains Newsletters 71 to the 80.
Links to other Newsletters:
---
China Update. Matt Ryan
Yet another well!
"Britain's Largest Explosion". Part 2
Peak Cavern / Speedwell (The Highs and Lows of the 'Devils Arse') "The Welsh Mob"
XMas Do.
DCRO
Meets
And finally...
---
Adventures in Penmorfa (A copper mine under the Great Orme)
Stok Kangri
Meets
Philistines in Peak Cavern
Newcomer to Caving!
Lime Kiln Mine. Astbury
Tea Pot Mine Mow Cop
Mixon Mine. Morridge
Hillhouse Mine. Blackshaw Moor
Royledge Mine. Blackshaw Moor
Manifold Mine(s)
National Trust
Bateman Shaft. Lathkill Dale
Water Icicle
Peak-Speedwell work
---
Answer to "Get out of that!"
Cave Fire. Sidetrack Cave. Tom Bailey
NCA Rope Tests
T'owd Man visits the Black Country! Len Kirkham and Nigel Cooper
Hill House Copper Mine (update).Len Kirkham
Limestone Mine, Limekiln Farm. (update) Len Kirkham
Mixon Mine. Len Kirkham.
Well Well Well!
Peak-Speedwell ladder repairs
Hillocks "Sump" Len Kirkham
Vandalism in Carlswark Cavern. Ralph Johnson
Members 2003.
Stok Kangri
The Chinese Way. Matt Ryan
DCRO call out to Knotlow. 21st May.
Meets
Missing Caver DCRO exercise. Ralph Johnson
---
Newsletter 77
---
Newsletter 76
---
Autumn 2002. Newsletter 75b. An emergency edition after the editors computer minced up the original ten page Newsletter 75.
Arbor Seats Sough. Neil Conde
Digs. An Update. Lime Kiln Farm, Hill House, Hillocks, Oxlow.
Knotlow pollution and bad air.
Contacts.
For Sale
Insurance
Meets
---
Aliens 111
Peak District Mines
Peak District Mines 2
Suicide Cave
Speedwell Cavern
An Invitation to Kiwi Land. Ralph Johnson
Caving Virus. Tom Bailey
A follow-up to "Men's Fitness"
XMas Do
DCRO Exercise 9th June
Meets
---
DCRO Christmas Pub Collection.
Congratulations.
Clatterway Levels.
A Snippet from Tom Bailey's Diary.
Stanley Moor, Buxton.
Hypothermia in Cavers.
The Ladder on Rob's Dig.
Speedwell.
Lower Long Churn Mini-Epic!
Serious Injury Underground.
China Syndrome.
Meets.
---
Bolt Tests
Ghost Rift
For Sale
Gouffre de la Diau
Whalf Fence
Alternative to Leviathon
DCRO Radio Location Exercise at Peak Cavern. Sunday 21 October. Ralph Johnson
Beneath Mow Cop
A DCRO call out with a difference! Ralph Johnson
Jug Holes
Meets 2002
Subscriptions 2002
Electronic Mail
---
(having fun in) Dido's Cave, Matlock.
New Zealand Trip Feb 2002
LED Bulbs. Max Higginson
Bits n Pieces
Brief Summary of Wotson
---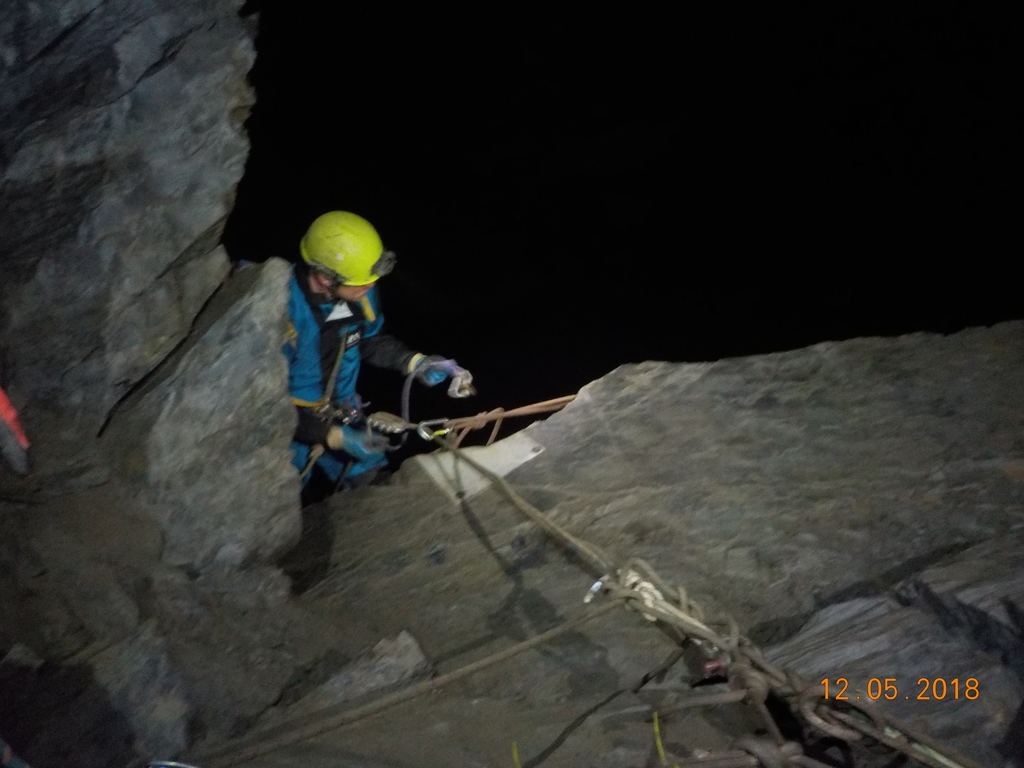 Neil Conde in Croesor Slate Mine. Photo © Grace Chu 2018.