Newsletters 81 to 90

This page contains Newsletters 81 to the 90.
Links to other Newsletters:
---
News from China. Latest on this years Tianxing expedition.
Caves and Cavities in the Upper Lathkill Catchment (Part 1) ( 12th May 2006)
Cwmorthin 12 November 2006
Minera Mine, Nr. Wrexham, North Wales. (14th October 2006 )
A further visit to Minera Mine, Nr. Wrexham, North Wales (6th December 2006 )
---
Caves Above Peak Cavern Entrance
Rob's Multipod
Hillocks – Knotlow Exercise
Bryn-yr-Orsedd Mine (later worked as Belgrave Mine)
---
Box Stone Mines, Wiltshire
Results of Block Hall rope test
Cwm Penmachno
Rhiwbach Slate Quarry
Cwt-y-Bugail Slate Quarry
Unspoiled Places
SRT Training at Ingleborough Hall, Clapham
The River Manifold, Derbyshire
Cleaning Eagle Street Springwater Well-shaft, Buxton
"Holidays" 2006
Ade's bear epic
Fatality in Astonhill Swallet
---
Cwmorthin Slate Mine
SRT Rescue Question
Pandora and New Pandora Mines
DCRO Training Day at Whitehall Outdoor Centre, Buxton 12 Nov 05
Tanygrisiau, Blaenau Ffestiniog - Wrysgan Slate Quarry
Tanygrisiau, Blaenau Ffestiniog - Rhosydd Slate Quarry
Corris Uchaf, Dovey Forrest - Gaewern Slate Quarry
Dinas-Mawddwy, Dovey Forrest - Minllyn Slate Quarry
Knotlow Mine
---
Cavers & Bat workers Workshop at Pooles Cavern
Tanygrisiau, Blaenau Ffestiniog
Cwmorthin Underground Slate Quarry
Rhosydd Slate Mine
Wrysygan Slate Mine
Surplus Equipment
Little Glory at 'Glory Mine', Priestcliffe
Gating Redhurst Swallet, Manifold Valley
Tanygrisiau, Blaenau Ffestiniog
Wrysgan Slate Quarry
Rhosydd Quarry to Rhosydd Adit. Through Trip
Amendments to Constitution
Foreign Trips
---
Fish Mine and Dwarf Mine, Near Prestatyn, North Wales
Talargoch Mine, Prestatyn
Rob Farmer
Hunger Hill
Forthcoming AGM
Penarth Mine
DCRO Exercise Sept 17th
Romania
Tom Buxton
Doomed to Failure (Meregill)
NVQ in Safe Cracking
Digging Potential in Jasper
Owl Hole
Tian Xing 2003. Caving in China
Moel Verna Slate Mine (nr Corwen)
---
Exploring Mines in the Derwent South (Matlock) Catchment Area (Bonsall Leys Level, Slaley Sough, Dunsley Spring Level)
Email from Jen explaining her late return from S Wales
Where now? What does the future hold?
Neptune Mine
Hunger Hill Swallet
---
Willets Trophy
Youngsters & Caving
Rob Farmer Bequest
China
Len's Secret Mines!
Waterways
---
Tributes to Tony R and Rob F
Abseiling accidents
Limekiln Mine Astbury
Ladakh 2004
Credit Where Credit's due
Shaft on Ossoms Hill
---
Newsletter 81
---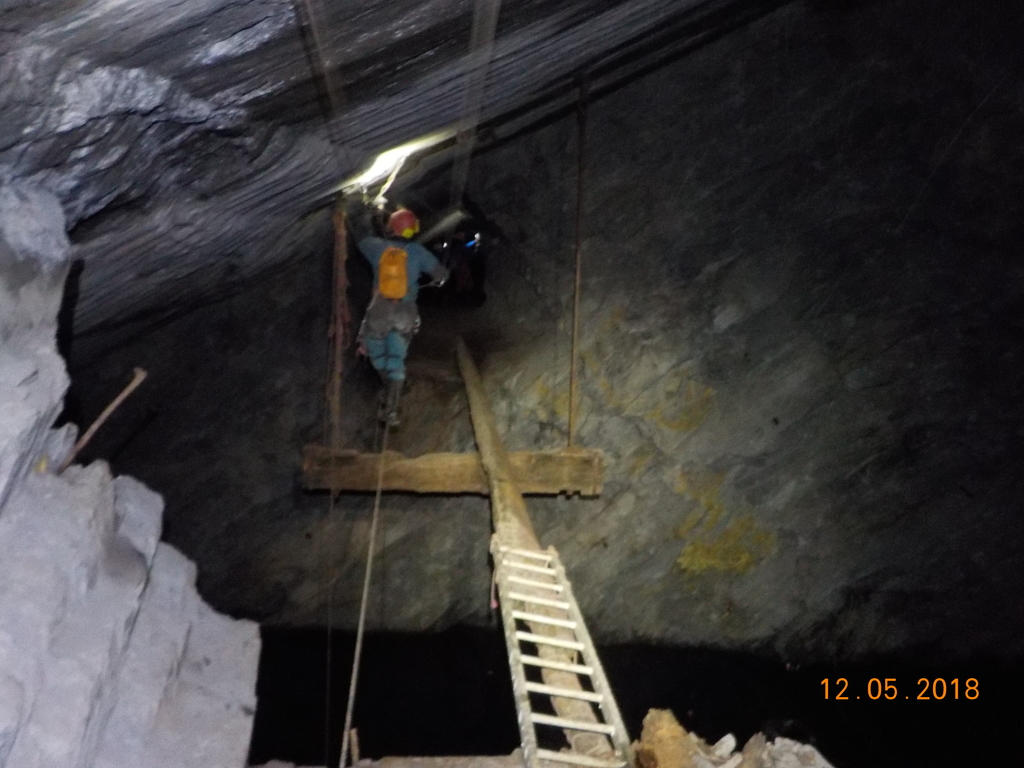 Jenny Drake crossing a tension wire tyrolean traverse in Croesor Slate Mine. Photo © Grace Chu 2018.