Newsletters 111 to 120

This page contains Newsletters 111 to the 120.
Links to other Newsletters:
---
Club Meets etc., during July, August and September 2019
Trip Report. Ty Gwyn Mine. 7th July. Steve Pearson Adams.
Penyghent Pot P8. 20th July.
DCRO Training. Knotlow Mine. 24th July.
Death's Head Pot Eldon Hole. 3rd August. Steve Pearson Adams.
Dan yr Ogof Ogof Craig a Ffynnon. 17th & 18th August. Des Kelly.
Mandale Mine. 31st August. Nigel Cooper.
Birks Fell Cave. 15th September. Jenny Drake.
Don't Forget.
Coming Soon!
Recent Club Meets etc., during April, May & June 2019.

6th April. SRT Training at Dukes Barn.
11th April. Bagshawe Cavern, Derbyshire.
13th & 14th April. Yorkshire Weekend, including Ireby Fell Cavern.
27th April. Swildon's Hole, Mendips.
11th May. Easegill Caverns, Yorkshire.
25th May. Gaping Gill Winch Meet, Corky's Pot to Marilyn Pot, Yorkshire.
9th June. Swinsto and Jingling Pots, Yorkshire.
12th June. DCRO Dash, Derbyshire.
22nd June. Cautley Spout, Cumbria.

Don't Forget:
Coming Soon to a Saturday, or Sunday Near You!
June 26th. DCRO Training Event. Larkin Frame.
---
Recent Club Meets, etc., during December 2018, & January to April 2019.

8 December Notts Pot 2 / Mistral, Yorkshire.
23 December Giants Hole, Derbyshire.
28 December Christmas Walk, Derbyshire.
5 January Oxlow Caverns, Derbyshire.
20 January Minera Mine, North Wales .
2 February Aygill Caverns, Yorkshire.
9 February Christmas / New Year Social.
17 February Nickergrove Mine and Hope Shaft / Level 7, Derbyshire.
2 March Peak Cavern, Derbyshire.
17 March Parc Lead Mine, North Wales.
30 March Meregill, Yorkshire .
14 April Ireby Fell Caverns, Yorkshire.
27 / 28 April : Mendips, Somerset. .

Derbyshire Cave Rescue Organisation (DCRO) open day on 19th May
More about Graffiti!
Trip Report: OXLOW Saturday, 5 th January 2019
Waterways Swallet News.
Coming Soon to a Saturday or Sunday near you !
Cautley Spout
17 th February 2019 :- Nickergrove Mine and Hope Shaft / Level 7.
---
Recent Club Trips. Various authors.

Ibbeth Peril. Calf Holes and Browgill Cave. We went elsewhere due to the weather.
Ogof Hesp Allyn
Lancaster Hole
Gautries Hole
Penyghent Pot. Alum Pot. Again, altered due to the weather.
Peak Cavern.

Coming Soon! Colin Knox.
Waterways Swallet Car Park clear up. Alan Brentnall.
DCRO training. Lathkill Area search. Colin Knox and Des Kelly.
More mine related grafitti. Colin Knox.
Christmas Traditions. Caves and Mines. Colin Knox.
Just for Interest. Lud's Church. Colin Knox.
---
Ogof Hesp Alyn trip report. Dan Baddeley
Just for Interest. Obscure places in the Peak District. Fulwood's Fissure. Colin Knox.
Dale Head to Notts II trip report. 8-5-2018. Jenny Drake
Graffiti underground. Colin Knox
Club policies. Child protection. Colin Knox.
Helicopter familiarisation session. Colin Knox
Ralph's Revenge Exercise. Alan Brentnall.
---
September 2018 Newsletter 115 Colin (Steve) Knox took over the editorship from this edition.
Obituary: David Michael Knox. 1947 to 2016. Colin Knox.
Editorial. Colin Knox.
Caving in China 27-10-2015 to 30-10-2015. Grace Chu
Standedge Tunnel 05-06-2017. Jenny Drake
20th March 2016. Happy Memories of Water Icicle and More! Colin Knox.
MidWeek Caving.The Knox-Nixon Bypass. 11-11-14. Alan Brentnall.
Meets. Coming Soon to a Saturday or Sunday Near You!
---
February 2016 SRT Training Event.
The End-to-End that nearly Ended at the Start. Alan Brentnall's cycle trip. Continued from newsletter 113. Day 15 to end.
CCPC Picture Quiz
Rhyd Alyn Saturday 30 January 2016. North Wales caving trip report. Alan Brentnall.
Situation Vacant - Training Officer. Alan Brentnall.
---
The End to End that nearly Ended at the Start. Continued from NL112. Alan Brentnall's cycle trip. Days 5 to 14.
News on Project "Somewhere Near Hartington". Shaft capping and exploration. Len Kirkham
A busy Week's Caving. Alan Brentnall does it seven times in a week! Caving that is.
A Meeting with Dr Trevor Ford O.B.E. John Gillet meets a cave science legend at 90.
Ringing the Changes. A reprint of a Christmas quiz from CCPC newsletter December 1990. Mark Lovatt
---
Report on Peak/Speedwell Projects. Work carried out by CCPC members in the NCC Shafts. Speedwell Cavern show cave. Speedwell boulder piles and Cliff Cavern. Alan Brentnall.
Clive Mine. Trip report to an unusual Shropshire copper and cobalt mine in sandstone. Colin Knox
More about Axe Hole, Derbyshire. Colin Knox.
The End-to-End that nearly ended at the start. Alan Brentnall cycles from one end of the country to the other. Start to day 4.
CCPC History. John Gillet.
---
Earth Leakage Trip Report. Giants Hole. Alan Brentnall
Talk on First Aid for Cavers given by Tom Bailey. Colin Knox
Photograph Taken After a CCPC Cave Rescue Practice at Knotlow Mine: 5th March 1978. Colin Knox.
Knotlow Archive Photo comments. Mark Lovatt.
Meets
NEW CASTLETON TOURIST ATTRACTION. Mine collapse at the Giants turn off from the main road.
---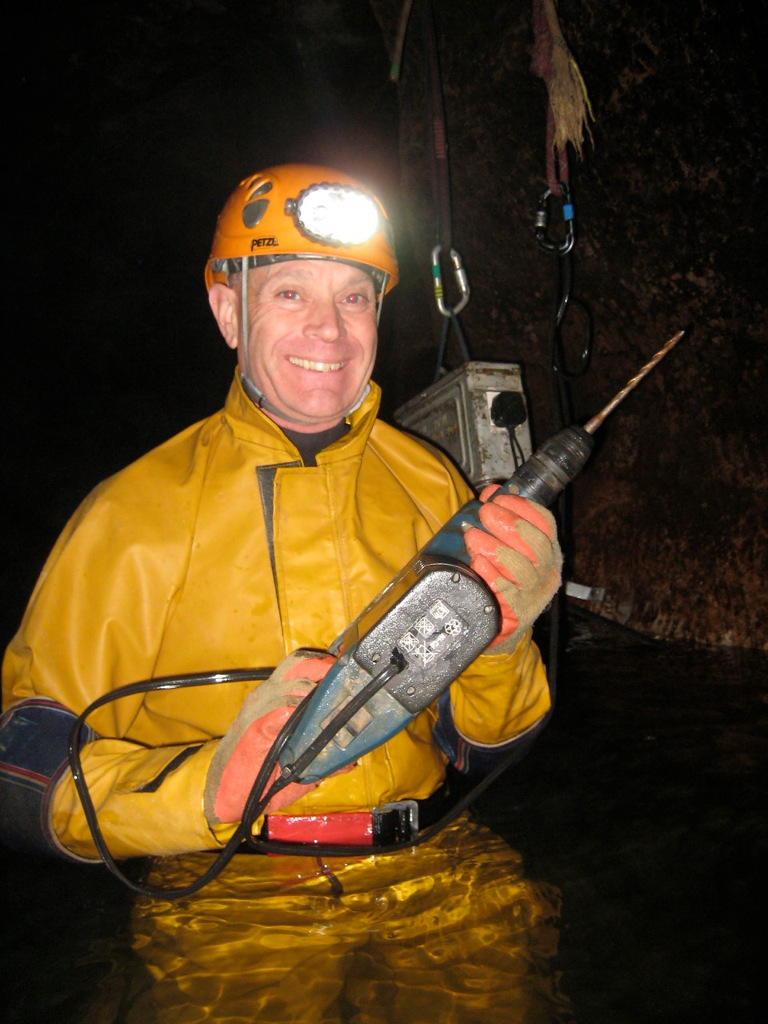 Rob with a drill. Speedwell Cavern, Whirlpool Junction. 2011.