Peak District Rigging Guide

Welcome to the CCPC Peak District Rigging Guide
Around the turn of the century, Crewe CPC were heavily involved in the project to replace 8mm Spit expansion anchors in Peak District caves and mines with stainless steel resin hangers. We compiled a guide book that gave rigging topos for all the worthwhile SRT trips in the Peak District and this rapidly became an essential item in any Peak District cavers, or clubs library. This guide book went through many editions as new routes were added, or existing ones altered. Profits from sales initially went to the hanger fund and in later years to DCRO.
Time moves on and we decided to transfer the rigging guide to our web site. This allows us to update the guide more quickly and gives cavers access to the latest version of each rigging topo. Derbyshire Caving Association publish rigging topos for caves that they have installed hangers in. These can be viewed and downloaded from the Peak District Caving web site. There are many more caves and routes than this and the CCPC rigging guide tries to cover as many as possible.
The complete guide and individual topos can be viewed, downloaded and printed by individual cavers, clubs and those carrying out caving on a professional basis. Copyright for the guides and rigging topos remains with Crewe Climbing and Potholing Club. Selling topos and guides downloaded from the web site is prohibited.
---
Using the Guide
The topos are divided in to regions based on Peak District geographical watersheds and then alphabetically by cave. The scheme is the same as that used in the Caves of the Peak District (2010) guide book and the Peak District Caving web site. These regions are shown in the menu to the left, or the top of the page and allow easy navigation around the guide. If you are not sure what region a cave is in, there is an index, sorted alphabetically by cave name. The CCPC Home navigation button takes you to the main Crewe CPC site.
The following information and links are provided:
Rigging Topo will display the rigging topo in a new tab, where it can be zoomed and panned.
Download PDF will download an A4 formatted pdf document that is easy to print.
Peak District Caving Link will take you to the appropriate entries for that cave. Check these for location and current access arrangements. The provision of a rigging topo does not mean that access is currently allowed. The cave could be off limits for safety reasons too. The link(s) should hold the most recent information. If there is no information in Peak District Caving, or Caves of the Peak District, then location and access information is given here.
Caves of the Peak District Page Number will save you time looking up the cave in the 2010 edition of the guide book as it has no index within the book.
A Front Cover, Contents, Index and Key, so you can print and bind your own rigging guide, should you so desire. The edition number is also given, so you can see if your copy is still up to date. Check the revision history to see which topos you need to add, or update. Remember to print a new front cover with the new revision number when updating your guide. We suggest keeping any printed copy in clear plastic pockets in a ring binder to protect the pages from muddy cavers paws and allow easy updating.
Between them, these sources of information should provide the knowledge you'll need to plan a successful trip. Happy Caving!
---
The Guide
Download the complete guide in pdf format, ready to view, or print. (3.5MB). Alternatively, view, or download individual pages below.
Cover,
Contents,
Index & Key
Page
Download PDF
Description
Current Edition
Rigging Guide Front Cover
Front cover to make your own paper copy rigging guide.
Edition 12.1 12th January 2020
Rigging Guide Contents
Contents page for your old fashioned book style rigging guide.
Rigging Guide Index
Index for your dead tree format rigging guide. Alphabetical by cave.
Rigging Guide Introduction
Introduction for your home made rigging guide.
Rigging Guide Topo Key
A key to the rigging topos for your wood pulp rigging guide.
Bradwell
Rigging Topo
Download PDF
Peak District Caving Link
Caves of the Peak District Page Number
Long Rake Mine
Long Rake Mine

Page 58
Castleton
Eldon Hole
Eldon Hole

Page 88
Giant's Hole Part 1 - Entrance to Plug Hole
Giants Hole

Page 93
Giant's Hole Part 2 - Geology Pot to East Canal
Giants Hole

Page 93
Giant's Hole - Boss Aven & Carnival Aven
Giants Hole

Page 93
Maskhill Mine
Maskhill Mine

Page 100
Nettle Pot topo 1
Nettle Pot

Page 101
Nettle Pot topo 2
Nettle Pot

Page 101
Odin Mine
Odin Mine

Page 105
Oxlow Cavern
Oxlow Cavern

Page 107
P8 / Jack Pot
P8 / Jack Pot

Page 111
Peak Cavern / Speedwell - Cliff Cavern
Speedwell Cavern

Page 129
Peak Cavern / Speedwell - Far Sump Extensions
Peak Cavern - Far Sump Extension

Page 117
Peak Cavern / Speedwell - James Hall Over Engine Mine (JH)
James Hall Over Engine Mine

Page 98
Peak Cavern / Speedwell - NCC Shafts
Peak Cavern - NCC Shafts

Page 120
Peak Cavern / Speedwell - Titan
Peak Cavern - The Titan Entrance

Page 123
Peak Cavern / Speedwell - Victoria Aven
Peak Cavern - Victoria Aven

Page 115
Peak Cavern / Speedwell - White River Series
Peak Cavern - The White River Series

Page 122
Rowter Hole
Rowter Hole

Page 126
Snelslow Swallet
Snelslow Swallet

Page 129
Suicide Cave
Suicide Cave

Page 133
Winnats Head Cave
Winnats Head Cave

Page 134
Derwent
South
Devonshire Cavern
Devonshire Cavern

Page 148
Dove
Robin's Shaft Mine
Robin's Shaft Mine

Page 184
Lathkill Dale
& Monyash
Hillocks / Whalf Mine
Hillocks Mine Adit Entrance, Whalf Climbing Shaft, Whalf Engine Shaft
Page 233
Knotlow Cavern
Knotlow Cavern Chapel Dale Engine Shaft, Climbing Shaft, Engine Shaft, Fourways Shaft
Page 234
Lathkill Head Cave Garden Path
Lathkill Head Cave Garden Path
Page 237
Lathkill Head Cave Upper Entrance
Lathkill Head Cave Top Entrance
Page 237
Water Icicle Close Cavern
Water Icicle Close Cavern
Page 243
Stoney
Middleton
Carlswark Cavern
Carlswark Cavern, Eyam Dale Shaft, Flower Pot Entrance, Gin Entrance, Resurgence, Stub Scrin Shaft
Page 258
Eyam Dale House Cave
Eyam Dale House Cave
Page 264
Hungerhill Swallet
Hungerhill Swallet Swallet Entrance, Timbered Shaft
Page 269
Layby Pot
Layby Pot Mined Passage Entrance, Oil Drum Entrance
Page 272
Level 7, Hope Shaft
Level 7, Hope Shaft. Note that the grid reference for Hope Shaft in Caves of the Peak District is wrong!
Page 276
Merlin's Mine
Merlin's Mine Main Entrance, Top Entrance
Page 275
Nickergrove Mine
Nickergrove Mine Adit Entrance, Didsbury Shaft, Top Entrance (AKA Pallet Shaft), Hillside Entrance
Page 278
Wye
Putwell Hill Mine
Putwell Hill Mine
Page 308
---
---
Revision History
| Edition | Date | Changes |
| --- | --- | --- |
| 12.1 | 12-1-2020 | Level 7 / Hope Shaft topo grid references removed. Hope Shaft reference was incorrect. More accurate locations are now in peakdistrictcaving.info. Replace topo (page 40) and front cover. |
| 12.0 | 8-1-2020 | The first edition to be published on-line |
---
Index - Alphabetical by Cave
---
Feedback
If you discover a problem with a rigging topo, or any of the links here, then please let us know by filling in the feedback form below:
---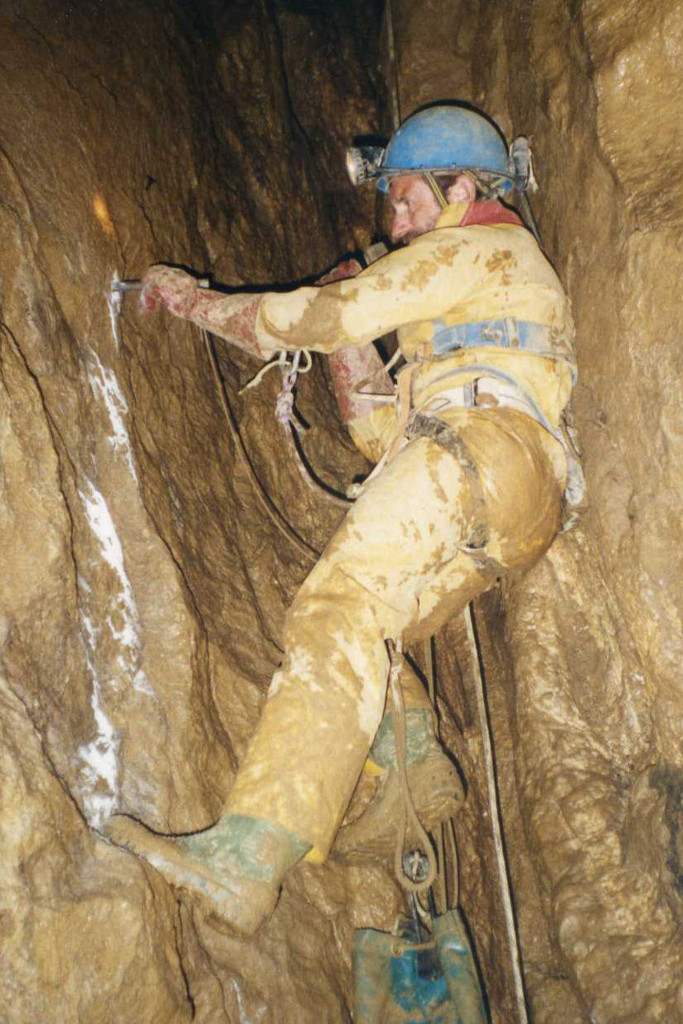 Ralph Johnson hand drilling for a resin anchor in Maskhill Mine 28/8/1995. Photo © Steve Knox.
---