Historic Photos

---
Knotlow in the '70's
Some photos taken by Mark Lovatt during the mid 1970's at Knotlow Caverns with the 210' shaft, the climbing shaft and the route between them. Ladder and life line were used on the pitches on the climbing shaft route. The 210' Engine Shaft was descended by abseiling. This was before we adopted SRT. The tops of both surface shafts have been rebuilt since. There looks to be some snow on the ground around the top of the 210. Click on any picture to see a larger version. Descriptions by Mark.
| | |
| --- | --- |
| | |
| This is the second cap on Knotlow 210' shaft, installed (I think) by Eldon CC which replaced the original Eccles CC one. When this eventually crumbled, CCPC fitted the current one (c.1990?). Note the steel lid with the inscription 210' in weld; this was reused on Cascade Cavern where it has confounded many feckless youths who find they have 170' of rope left over! | Jeff Fox (CCPC) ascending from Pearl Chamber. |
| | |
| Peter Heath (CCPC) in 'the Bung', Knotlow. | Peter Heath (CCPC) in 'the Bung', Knotlow. |
| | |
| Jeff Fox (CCPC) exiting the Climbing Shaft, Knotlow Note the 'mutual suicide pact life-lining from the waist' technique which was in vogue at the time. | John Preston descending the 210' into Waterfall Chamber. Note the fixed ladder which used to make a through trip to Hillocks via Meccano Passage very much easier. CCPC removed this at the request of DCA in the early 1990s. |
---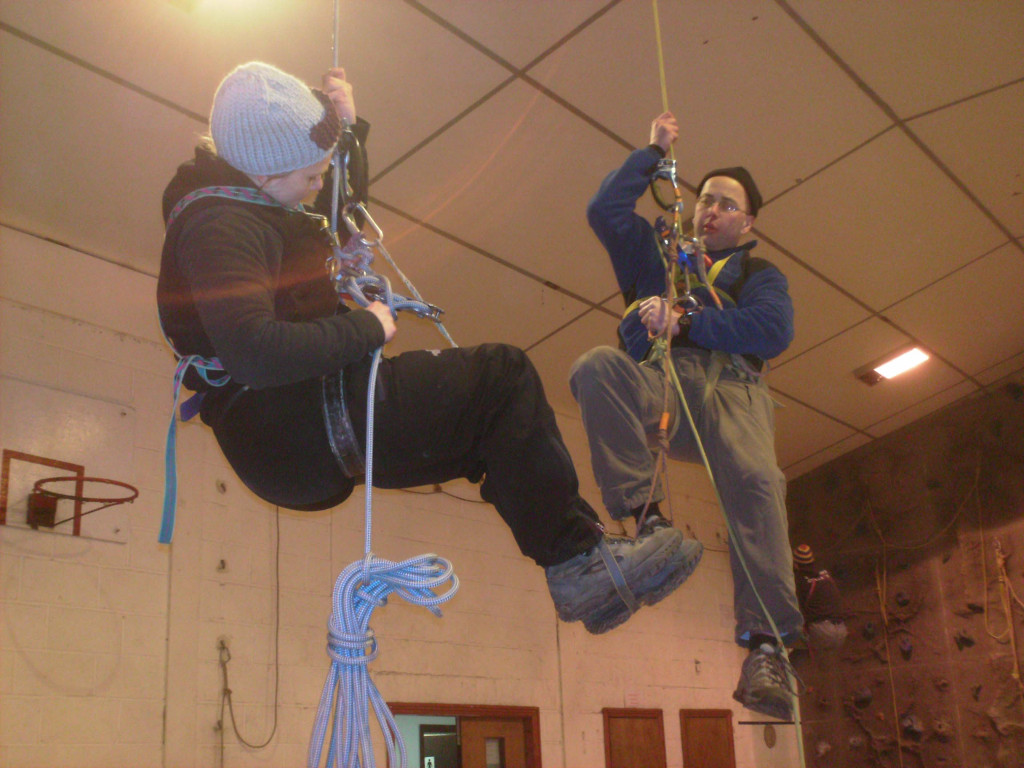 Training in SRT. Photo © Ralph Johnson.
Picture display using Lightbox.