News

All the latest news from the club, including older news that is no longer news, but could perhaps be better described as olds. Previous years can be found from the links below.
---
Dales Caving. 9th June 2019
Some CCPC members were up on Saturday 8th, but the very wet weather that day limited the possibilities. The beck in Kingsdale was in spate, though not breaking its banks and a lot of water was coming out of Keld Head. A quick trip was taken in to Yordas Pot via the Middle Entrance and the Chapter House traverse. A rather aquatic experience. Grace did a couple of pitches of the nearby Rowten Pot with some student cavers. The rain eased off in the afternoon and water levels started to fall. On Sunday we all met up in Inglesport Cafe for breakfast and a discussion over what to do. Eventually, it was decided to abandon the initial plan for a Swinsto - Simpson's Pot exchange trip and to split in to two groups. Roughly half of us did a Swinsto to Valley Entrance trip, the other half a trip down Jingling Pot, rigging two of the routes in this vertical cave. Actual sunshine was seen in the afternoon as we all returned to the surface! We finished up at the Marten Arms, enjoying this sunshine in the garden, before heading home.
A busy weekend overall for CCPC as other members were involved in a DCRO exercise on the Saturday, simulating a cave rescue from call out to completion.
Gouffre Berger 1983 Expedition Report
A couple of members have dug out copies of the report from the club's expedition to the Gouffre Berger in 1983. This has been scanned, OCR'd and added to the web site. Why are we suddenly interested in a report from 36 years ago? That would be telling!
Corky's Pot to Marilyn Pot. Gaping Gill. 25-5-19
At the start of the Bradford Pothole Club 2019 Winch Meet, we took advantage of the other rigged caves in to the system. Jenny reports:
Thanks everyone for an excellent trip yesterday. 11 club members underground, plus loads of other cavers taking advantage of the rigged routes and plenty of members of the public doing the winch and wandering around the passages near Main Chamber. The car parking in Clapham was rammed, but eventually we all managed to get parked and changed for the walk up in the sunshine. In the end, we did a Corky's Pot to Marilyn Pot through trip. Corky's was a new one to all of us and is a bit of a collectors piece. Lots of squeezes and crawls, often leading directly to the head of drops, but some fine pretties and a spectacular final pitch in to Mud Hall. With our numbers we were slow and it was soon obvious that this was going to be a looonnnnggg trip. Main Chamber was all lit up, giving us a chance to see it in a way that you can't with just head lamps. Heather had a tag for the winch, so we left her to join the queue for the quick way out. We passed cavers going up Flood Entrance and met another group at the base of Bar Pot. Rob and Dan decided to join them. The rest of us carried on through New Hensler's Crawl, in to Hensler's Master Cave and the junction in to Disappointment/Marilyn Pots. We met another party of cavers there and another group were soon behind us. The last pitch of Marilyn, that drops in to the Disappointment passage, is long and very loose at the top. We went up one at a time, waiting for each person to clear the top before risking another. Coming out in to a gentle drizzle we were very late. We sent people to sign us out at the Bradford Pothole Club's control tent at GG and others rushed down to Clapham to call concerned partners and cancel prospective call-outs. I was trying an experiment in going to the Dales caving by train and Heather managed to drop me off at Clapham station with minutes to spare for the last train that could get me home that day. Thanks Heather!

Lessons: We miscalculated the effect of numbers on how long it takes to get through difficult passage and pitches, particularly ones that were new to everyone. We should perhaps, have done the trip as an exchange, or split and done two different routes. Marilyn is a relatively easy route out, but not a fast one. More of us should have joined the queue at Bar Pot.

Other than that, a most satisfying day out. My legs will be sore for a few days to come!

Jen
Some pictures from Des.
CCPC Newsletter 118, April 2019 Published
Read the latest club newsletter. For those, like the web site editor, who didn't know, argillaceous refers to minerals containing substantial amounts of clay-like components.
Recent Club Meets, etc., during December 2018, & January to April 2019.

8 December Notts Pot 2 / Mistral, Yorkshire.
23 December Giants Hole, Derbyshire.
28 December Christmas Walk, Derbyshire.
5 January Oxlow Caverns, Derbyshire.
20 January Minera Mine, North Wales .
2 February Aygill Caverns, Yorkshire.
9 February Christmas / New Year Social.
17 February Nickergrove Mine and Hope Shaft / Level 7, Derbyshire.
2 March Peak Cavern, Derbyshire.
17 March Parc Lead Mine, North Wales.
30 March Meregill, Yorkshire .
14 April Ireby Fell Caverns, Yorkshire.
27 / 28 April : Mendips, Somerset. .

Derbyshire Cave Rescue Organisation (DCRO) open day on 19th May
More about Graffiti!
Trip Report: OXLOW Saturday, 5 th January 2019
Waterways Swallet News.
Coming Soon to a Saturday or Sunday near you !
Cautley Spout
17th February 2019 :- Nickergrove Mine and Hope Shaft / Level 7.
Mendip Weekend April 2019
Crewe CPC went further afield than usual, with a weekend in the Mendip Hills of Somerset. Accommodation was the Shepton Mallet Caving Club Hut, which has an adjustable squeeze box in the common room that can be modified to make it more, or less tricky. The team had a lot of fun with this, perfecting their technique and also enjoyed the caving, with a trip down Swildon's Hole.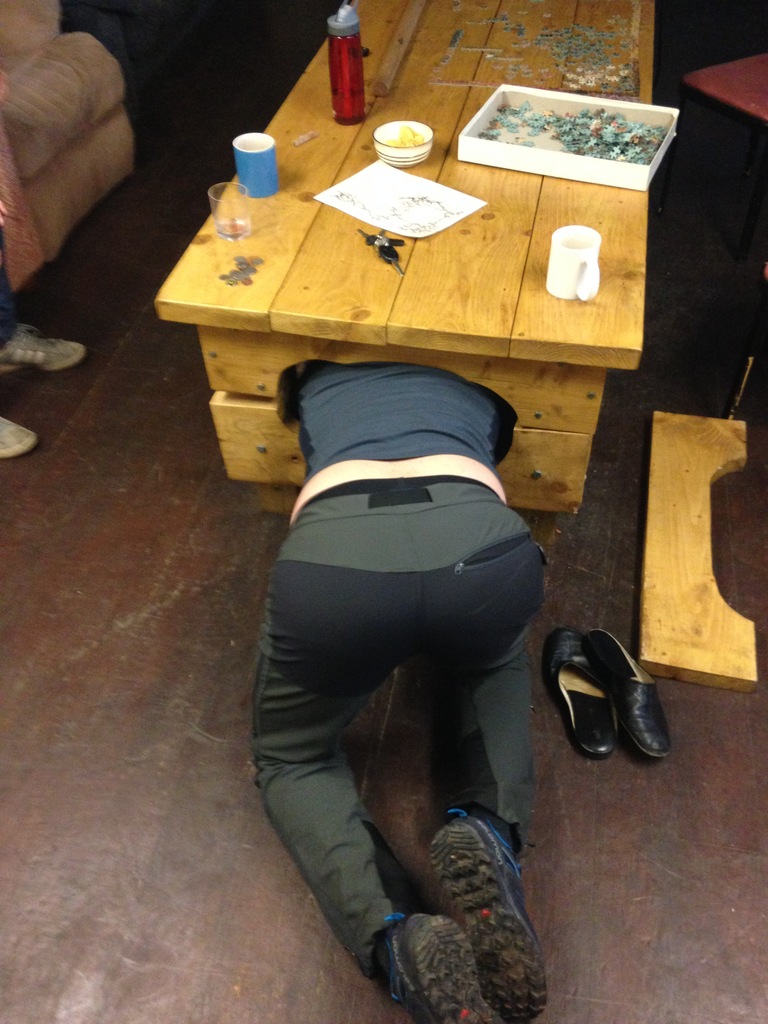 Neil trying out the squeeze. Photo © Steve PA.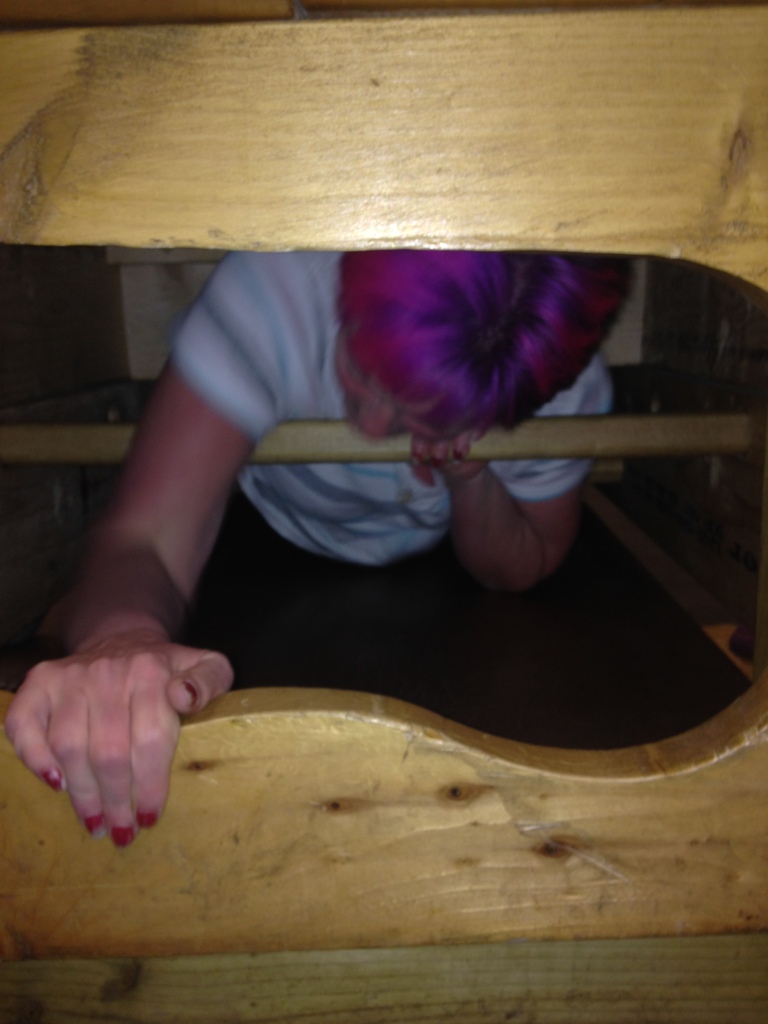 Helen PA inside, threading her way through the adjustable obstacles. Photo © Steve PA.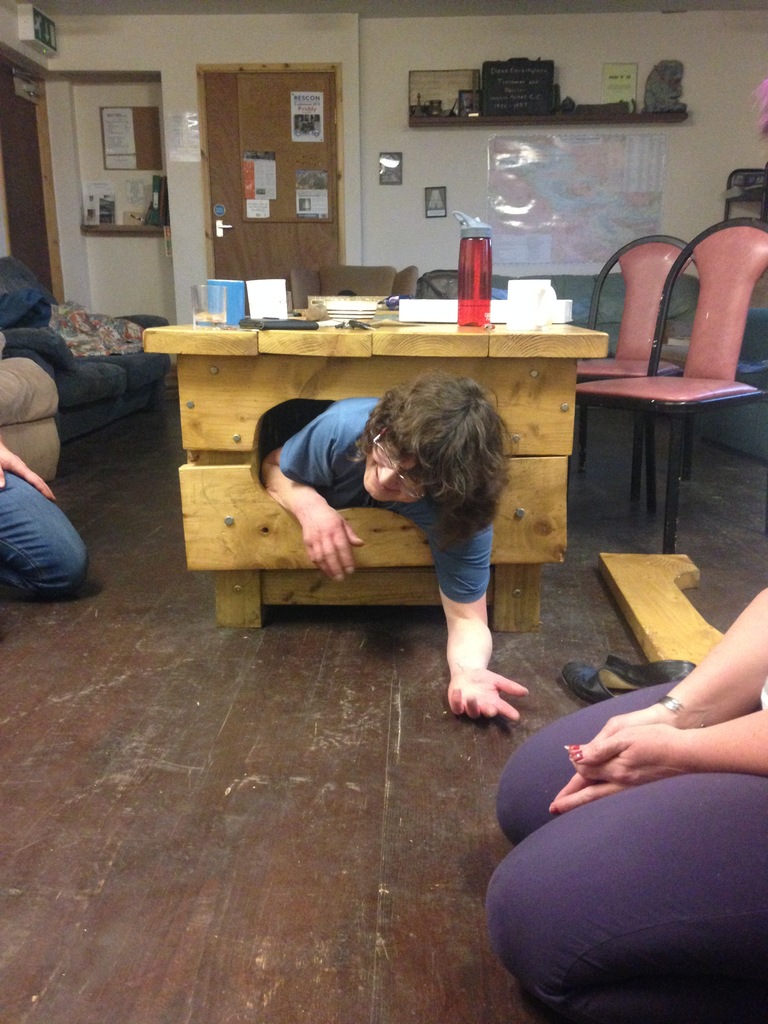 Heather makes it through! Photo © Steve PA.
Dales Weekend April 2019
Ade organised a weekend in the Dales, staying at a YRC hut. This included a trip down Ireby Fell, as well as walking and climbing. Here is a brief report from Ruth.
Thanks everyone for making this weekend so much (totally exhausting) fun. You all epitomise the nature of CCPC and constantly confirm that you are the best club there is full of the nicest people. The walk was around the most stunning scenery; the climbing was fun (so proud of those who were new to it!) And Ireby didn't disappoint - beautiful and varied. Special thanks to Ade for organising; Steve for cooking and Alan, Mark and Adam for patiently accompanying me out of the cave. See you all in 2 weeks!!

Ruth/ Morticia
Speedwell Film
Just in case you don't use Farcebook, Andy & Antonia Freem have made a very interesting film about the innards of Speedwell Cavern.
You'll see a few familiar faces, including some Crewe members.
SRT Self Rescue Training April 2019
Dukes Barn in Beeley Derbyshire proved an excellent indoor venue for the SRT rescue day which Mark had arranged through Daryl Godfrey of Aclimbatize. The day started with an introduction of who was who, what individuals were hoping to get out of the training, their caving history and any "near misses or mishaps experienced in the caving environment.
We then had a scrutiny session of personal SRT kit, condition of SRT kit, setup, suitable knots to use, mallions versus krabs,fine tuning kit for maximum proficiency.
All ready to go then, first session up prusik then change to abseil, passing a knot in both directions. This was followed by a blind fold session whilst up prusiking, abseiling, traversing and exiting from a pitch head (certainly focuses the mind and very useful) should you ever be left, quite literally, in the dark while mid rope.
The group then moved onto assisting fatigued caver up a pitch by hauling one to one using spare rope (carried in the safety bag?) Setting 2 and 3 to one systems for hauling as well as counter balance. Mini and micro traction devices were also employed in some of the set ups and how to release them when weighted. Daryl could not stress enough how important it was that whichever the set up option they all need to be reversible. Counter balance was also included in this session.
To finish the day Daryl set up sacrifice ropes to practice "snatch and grab" rescue, abseiling on a second rope to the caver in need, securing them to you using their cow tails clipped into your d ring mallion ( ensuring short cows tail is taking their weight) then cutting their rope.You can then abseil to safety with them attached to you if all has gone to plan. Safe to say this was for all the most exciting session of the day.
Grace, Nicola, Clare, Des, Pete, Mark and Steve spent a great day at Dukes Barn, gaining insight into some very useful and valuable techniques delivered in a balanced and well structured way under Daryl's expert eye. All that's left to say, on behalf of those who attended, is a very big thanks to you Mark for arranging such a brilliant day!
Steve P.A.
Meregill 30-3-19
A murky and misty morning in the Dales was the setting for the club trip into Meregill Hole. Seven club members negotiated some tricky traverses and pitches to reach the bottom. A great trip was had by all and also welcoming Steve PA back after his recent operation. All followed by the obligatory trip to the local after for a liquid refreshment ....and chips
Here are some pics from the trip.
Des
Peak Cavern 2-3-19
A great trip into Peak last weekend by 6 members, Grace has some good photos of the trip up Block Hall , through the White River series and exiting down via Ventilator. We were joined and passed along the way by Ade and 2 companions who came through on a pull through trip from JH. A tiring but thoroughly enjoyable trip, followed by a quick gargle in the local.
The new web site now has an RSS feed, giving you the latest additions and updates. Put this link in your RSS reader.
Nickergrove Mine. 17th February 2019
Lots of club members underground in Cucklet Delph, near Stoney Middleton on a very mild and pleasant day. We explored most of Nickergrove Mine, then did a Hope Shaft to Level 7 through trip.
The New Web Site Has Gone Live
Keyboards have been pounded. Ones and zeros have been wrangled and chivied in to place. The new club web site has gone live. We hope you enjoy it.
Read about our first organised trip of 2019. Oxlow Cavern in the Peak District.
---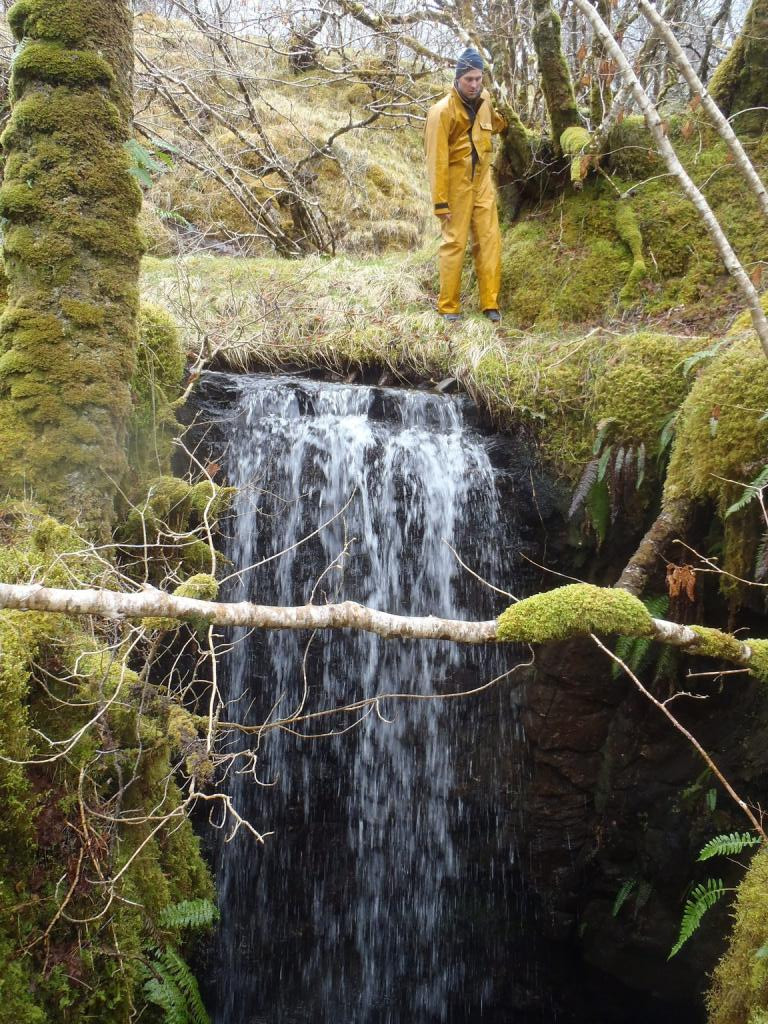 The entrance of Uamh a Bruthaich Chais Fhada in Appin, Scotland. Photo © Jenny Drake 2013.