Nenthead Weekend 23rd & 24th June 2018

Six people went for a weekend to explore the old lead mines around Nenthead in Cumbria. Saturday was a trip in to Smallcleugh Mine. The aim was to reconnoitre in force the route through to the ladders down to the connection with Caplecleugh mine for the Sunday. In addition we took in a lot of the other best features of this mine, both by design and because we were lost. Eventually Neil found the appropriate ladders and descended the first set to confirm it. We met some local mine explorers at the entrance going in, who gave us some route finding advice and very kindly, photocopies of a much better survey than we had.

The Haggs Bank camp site where we stayed, is well laid out, with level tent pitches and good ground for pegs. A bit of a midge problem this time of year, but no fault of theirs! Saturday evening was a fruitless attempt to find somewhere to eat. Numerous pubs between Nenthead to Alston were not able to help us and in the end we sat outside the chippy in Alston being watched by gulls and eaten by midges. Very good fish and lots of chips. Stopped off for a drink on the way back.

Sunday started with a cooked breakfast in the Miners Arms in Nenthead. This had been arranged the evening before. The Caplecleugh entrance is by the car park in Nenthead. We were heading upwards to Smallcleugh. Unusual for a through trip to start at the bottom and go to the top.
There is a lot of drainage water in Caplecleugh. This has the usual Nenthead dry stone walling and arched roof. Where this was missing, or fallen, then the debris on the floor forms dams that allow pools to form behind them. These got deeper and deeper till they were neck deep on most of us. Grace had a buoyancy jacket as she was swimming for long distances. In one section the shale roof was in a precarious state. Falls were obviously happening at regular intervals and only a crawling space was left between the "roof" and the debris below. We were very unsure about doing this, but decided to pass, very careful not to touch the roof. Beyond this was more deep water.
We stopped for a bite to eat and a discussion at a junction and decided that we would give it another half hour to find the connecting ladders up to Smallcleugh, or we would turn back. Turning back was not something anyone was happy about, having to go back through the collapse. Within two minutes Neil had found the base of the ladders. These were a mix of old wooden ones, heavily calcited and modern aluminium replacements. There was a modern rope alongside, but since this was belayed on an old bit of tram track and compressed air pipe at the top it was more psychological than effective if it had been required.
Once we were in Smallcleugh we made a quick exit. All the bits of bulging drystone wall and flaking shale in Smallcleugh that had so concerned us on Saturday now seemed fine after seeing Caplecleugh! The general opinion was that none of us wanted to go in to that part of Caplecleugh ever again. It may not be passable for much longer anyway. After walking back to the cars it was back to the camp site and pack up for home.

Thanks to everyone for a great weekend, especially Neil for route finding and Steve PA for his big tent, two burner stove, electricity and cool box!
---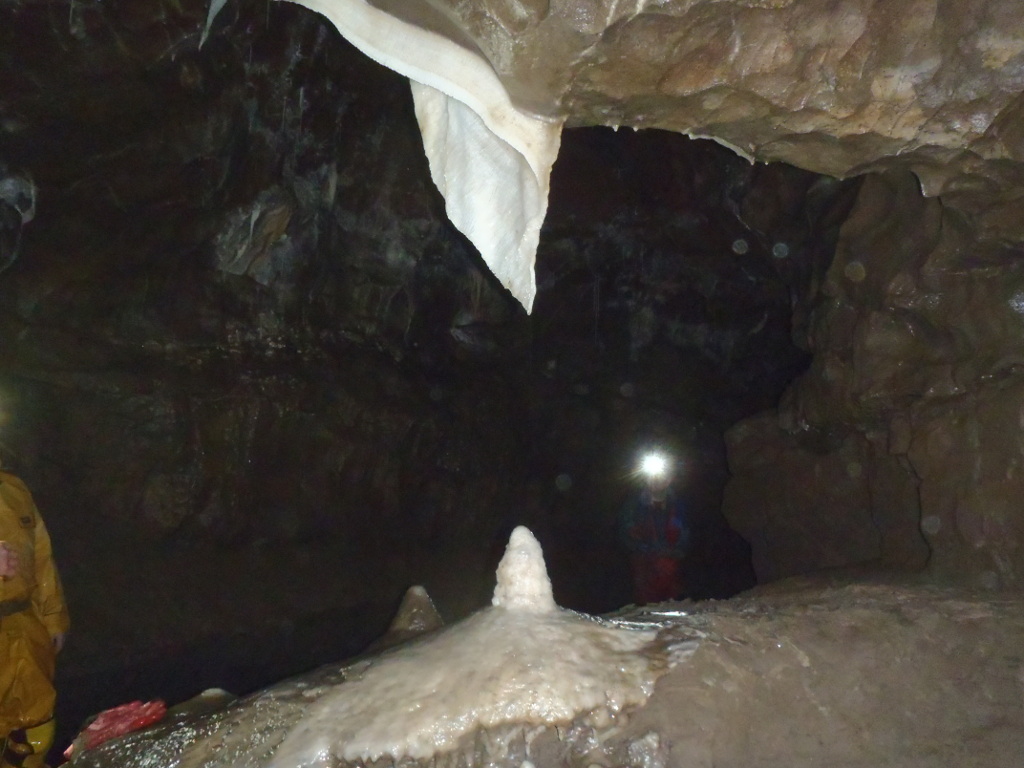 Formations in Notts 2. Photo © Jenny Drake 2013.