News from 2023
Links to other Years:
---
Rigging Guide. NCC Shafts. More Old Newsletters Uploaded
Tue, Nov 28 2023
The NCC Shafts topo now has the final pitch shown. The down pitches drawing has been stretched to make it clearer to follow.
The following old newsletters have been uploaded. Thanks again to Steve Knox for his hard work scanning from his library.
Ogof Dydd Byraf and Past Newsletters
Sun, Dec 3 2023
A visit by the club on Saturday to Ogof Dydd Byraf in North Wales. Jack took lots of photos.
Some more past newsletters have been scanned and uploaded. They are now available for all to read.
Rigging Guide. Garland's Pot
Fri, Nov 24 2023
Revised Garland's Pot in the Giant's Hole Main Route topo to reflect the recent changes that DCA have made to the anchors for this popular pitch.
Bagshawe, Peak Cavern and Old Newsletters
Sun, Nov 19 2023
On Saturday a couple of members attended a DCRO exercise at Bagshawe Cavern. Sunday saw the club visiting Peak Cavern, including the NCC Shafts.
The following old club newsletters, courtesy of the Knox library, have been scanned in and are now available to read on-line. Thanks to Steve Knox for his hard work slaving over a hot flat bed scanner.
Newsletter index
Mon, Nov 13 2023
On the Newsletter page, we now have descriptions of the five, to date, volumes of the club Journal. The first of these, covering the 1983 Gouffre Berger expedition can be read on line. The rest should follow in due course. The Newsletter index is now complete with article titles for every issue, back to the first in 1975. Thanks to Steve Knox for going through them all.
Old Newsletters
Tue, Nov 7 2023
The following old newsletters have been scanned in from paper copies and are now available to read from the Newsletters page, or direct from the following links.
Alderley Edge
Sat, Nov 4 2023
A trip from Engine Vein, and out of Wood Mine, taking in Hough Level and Brynlow Mine along the way. We managed to overload and sink a canoe in the Hough Level. Fortunately at the shallow end, where we didn't get too wet and the boat was easily emptied. Lots of green and blue copper ore spotted along the way. Thanks to Nigel from DCC and Mick (DCC & CCPC) for leading us through and rounding up stray cavers. Some photos from Paul Griffiths.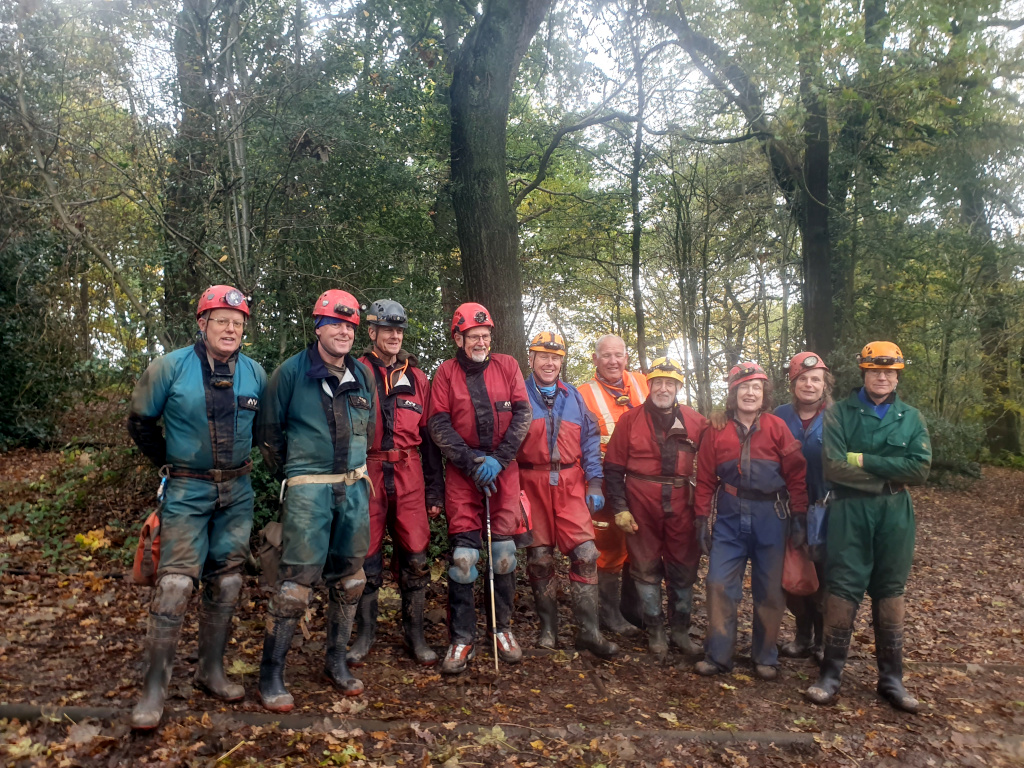 Most of the team after a trip around Alderley Edge Copper Mines. Photo © Paul Griffiths 2023.
Newsletter 149 and Titan Trip Cancelled.
Sat, Oct 21 2023
Our editor has produced another Newsletter. Read what we've been up to and what is planned. We cancelled our trip to Titan today, after storm Babet dropped a ridiculous amount of rain over the Peak District on the Friday.
Mistral
Mon, Oct 9 2023
The precipitation in the Dales precipitated a change of plan for Saturday's visit. Notts 2 was abandoned for a trip to Mistral in the Three Counties System. It being more suitable for wet weather and similarly not requiring SRT equipment. Lots of holes poked in to and pretty bits seen, with some unexpected excitement, which will be detailed in the report in the next Newsletter. Gaz took lots of photos, but dropped his 'phone in a stream, after which it wasn't so keen to take pictures.
Alum Pot
Sun, Sep 24 2023
This weekend saw some members at and around Alum Pot in the Dales. There were DCRO team members in the club at the annual "Ralph's Revenge" exercise at Giant's Hole, followed by the team supper in Hope.
Newsletter 148
Mon, Sep 18 2023
There is a new Newsletter for your reading pleasure.
Lancaster Hole
Sun, Sep 10 2023
A team of three took on the Lancaster Hole to Wretched Rabbit trip in the Dales on Saturday. Possible again, now the Wretched Rabbit entrance has been stabilised. Some photos from Gaz.
Rigging Guide Update. Longcliffe Mine and Titan
Wed, Aug 23 2023
Added a topo for Longcliffe Mine, near Speedwell, Castleton. Thanks to Phil Wolstenholme for the information and the sanity checking. Added a couple of new anchors that have appeared in Titan in recent years. One at the start of the traverse line out to the balcony over the main pitch, so you're not relying on a single anchor. The other at the top of a short pitch on the traverse around the Event Horizon to Titan Streamway. Page numbers have been removed from individually downloadable topo pdf's and viewable web pages, but kept on the pdf download of the complete guide. Most people seem to just download the topo they need for the trip in hand, so the page numbers are irrelevant and look weird there.
Various Trips
Sun, Aug 20 2023
There wasn't an official club trip this weekend, but over the last week, members have been underground in Cussey Pot in Eyam and in the Gaping Gill system in the Dales. Some reports have been written for the next newsletter.
Smeltmill Beck Cave
Sun, Aug 13 2023
A small group went to Brough in Barnie the campervan to visit this wet, but well decorated system on Saturday. A report will be in the next Newsletter. In the mean time, here are some pictures and video from Neil.
Rigging Guide Update. Lathkill Head Cave Garden Path and Top Entrance
Thu, Aug 10 2023
Updated Lathkill Head Caver Top Entrance and Garden Path Entrance topos, following new resin anchors having been installed by DCA. Thanks again to Pete Knight (DCA Projects Officer) for the details.
Rigging Guide Update
Fri, Aug 4 2023
The West Passage practice pitch in Giant's Hole has had defective resin anchors replaced. The Giant's 3 topo has been altered to show two different ways of rigging this pitch. Thanks to Pete Knight for the update. A new symbol has been introduced to show drilled thread belays, to distinguish them from natural threads. The Key and the Giant's 3, George Cooper's Aven, P8 and Snelslow Swallet topos have been updated with the new symbol.
Newsletter 147
Tue, Aug 1 2023
The latest club newsletter compiled by the editor can be found here.
Simpsons Pot and the Gouffre Berger
Mon, July 31 2023
On Sunday, we were down Simpsons Pot in the Dales, for a pull through trip to Valley Entrance. Six of us made the sporting descent, via Great Aven and rounded off the day with a quick drink at the Marten Arms. Grace has provided some pictures.
News from France; four CCPC members have successfully descended the Gouffre Berger, as part of the international clean up expedition. Congratulations to them on this caving rite of passage. More, including video, on our Facebook page.
Croesor-Rhosydd Through Trip
Sun, July 16 2023
Eleven members and guests did the Croesor to Rhosydd slate mine through trip. Our last time here was in 2018. Being North Wales, it was raining, but in the form of showers, high wind and the occasional spells of sunshine. We ran in to problems with the pull cord for the boat being caught up on an old steel cable. Fortunately we had an inflatable kayak with us and used it to reach the tangle and sort it out. A very atmospheric mine, with huge galleries, deep lakes, clear blue water disappearing in to the depths, a zip line, wire rope traverses and lake crossings. The clouds were descending through the skylights in Rhosydd Mine, giving a hazy light in those galleries.
Rigging Guide Update. NCC Shafts.
Fri, July 7 2023
The Peak Cavern key holders have made some alterations to the anchors for rigging on the main down pitch in the NCC Shafts in Peak Cavern. These should make rigging and following the route easier. Our rigging topo for the NCC Shafts has been updated to reflect this. A deviation has been moved, an extra traverse anchor added and a new deviation installed. This will require more rope, so the recommended rope length here has been increased from 55 to 70m. The What-Can-I-Rig app has been updated with the new rope length. Our club have certainly had problems descending this shaft on the old route, so the alterations are most welcome. Thanks to Michael Holliday of TSG and SUSS for sending us the information for the rigging guide.
---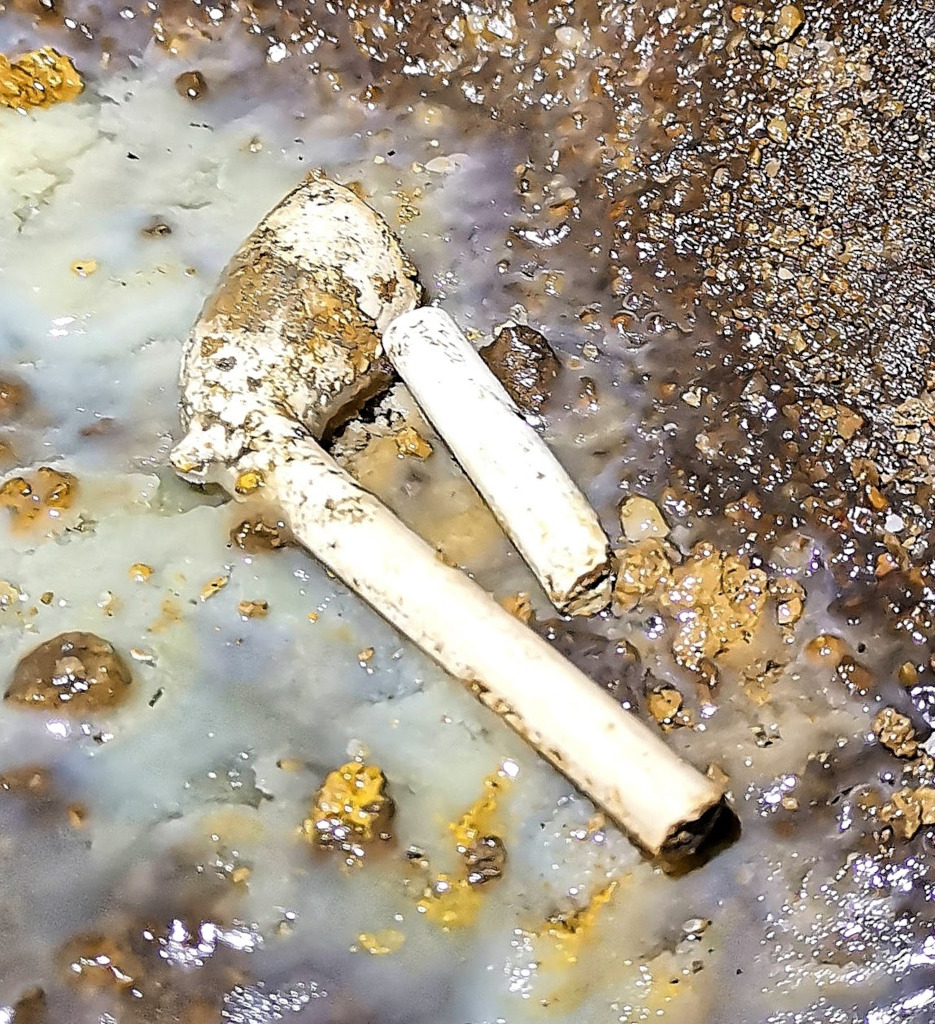 An old clay pipe, left by a miner in Moorfurlong Cave and Mine, Derbyshire. Photo © Gaz McShee 2022.