Cave Rescue Gallery

Crewe CPC have contributed extensively to the work of Derbyshire Cave Rescue Organisation (DCRO), almost right from the formation of the club. Both underground and on the surface. Cave Rescue in the UK depends entirely on the efforts of volunteers, both for its work and for fund raising. Caving is statistically a safe sport, but if things do go wrong underground in the Peak District, then DCRO will be there to help. Here are a few pictures of Crewe members involvement. Click, or tap on a picture to enlarge.
| | |
| --- | --- |
| | |
| DCRO Exercise in Speedwell Cavern 2001. This exercise took place in order to satisfy HSE regs. Note John Martin in the lead. Photograph by Ralph Johnson | CCPC members collecting for DCRO in Castleton. If you see someone rattling tins for Cave Rescue, or a collecting tin on the bar in a pub, or the counter of a shop, then please help. Photo by Steve Knox - 29.8.99 |
A multipod was purchased for DCRO from a bequest made by late CreweCPC member Rob Farmer. This has proved invaluable for rescuing casualties from surface shafts like the old lead mines that are common in the Peak District.
| | |
| --- | --- |
| | |
| The Multipod in action on Wharf Engine Shaft during a practice exercise. 22nd November 2015. Photo © Steve Knox. | DCRO members learn how to use the Multipod at their base in Buxton fire station on 7th July 2016. Photo © Steve Knox. |
---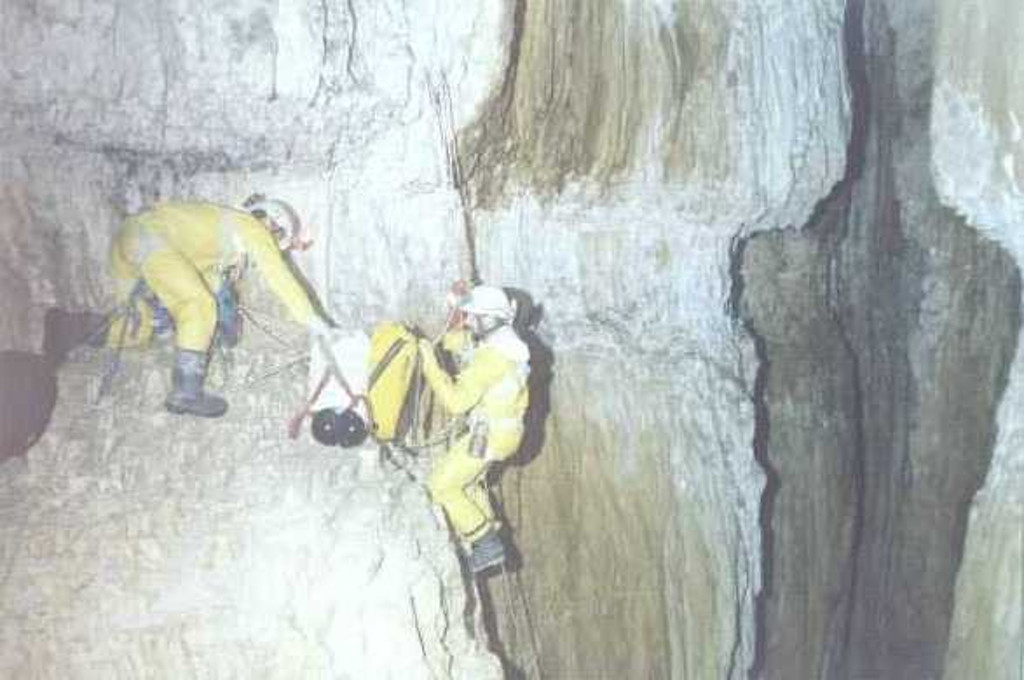 Cairn Pitch in the Gouffre Berger.
Picture display using Lightbox.