News

All the news from the club in 2022. Other years can be found from the links below.
---
15th January 2021. New Goyden Pot
Six of us underground in a cave that only one had visited before. Two pitches in to a continuation of the main Goyden streamway. We found the way in to the Planetarium and then back in the streamway beyond a sump, before meeting another sump. Upstream from our entry point, two members free climbed out of Thrope Edge Pot, while the others ascended the ropes of the New Goyden entrance. Steve PA has prepared a longer report for the next newsletter.
Newsletter 129
The latest newsletter can be downloaded from the Newsletters page. What we've done over the last few months and a preview of what's coming up.
2nd January 2022. Murfurlong Mine and Cavern
Our first club trip of 2022 saw ten of us on what we thought would be a gentle bimble in a grade 2 cave/mine. The extensions that have been made are a quite a bit tougher than grade 2 and saw us get wet and very muddy squeezing through the various constrictions. Between us, we saw pretty much everything. A great start to the new year of caving.
Some pictures from the day from Gaz here. A picture of some of the muddy team around the entrance shaft, overlooking Bradwell and Bradwell Moor by CJ is in the Surface Gallery. There is a shot from Gaz of a miners broken clay pipe in the Formations Gallery.
---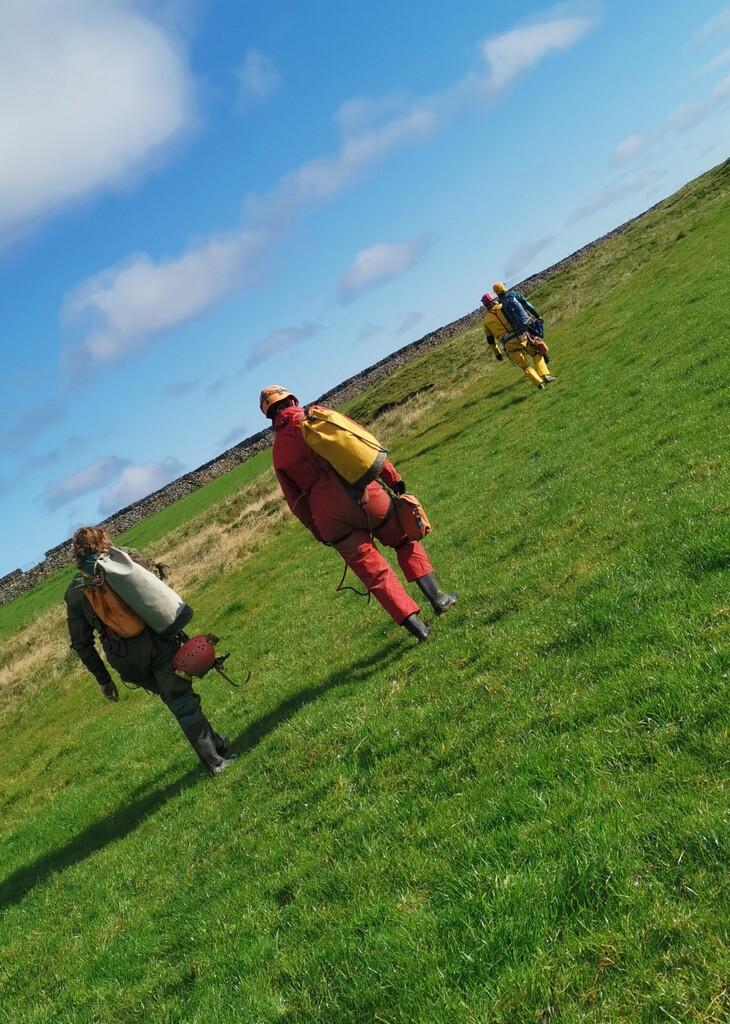 Walking to James Hall Over Engine Mine. Photo © Gaz McShee 2020.