On the Surface

During a typical caving trip, we will be getting changed in to caving gear, walking to the entrance, then walking back, getting changed again and quiet possibly visiting a pub before heading home. This gallery shows this part of caving. Click, or tap on a picture to enlarge.
---
| | |
| --- | --- |
| | |
| Getting changed for Cherry Tree Hole in Yorkshire. 28th September 2013. Photo © Jenny Drake. It is September, so a lower probability than normal of getting changed in sideways sleet! | Walking to Calf Holes in Yorkshire. 15th September 2018. Photo © Grace Chu |
| | |
| Trying to find Croesor Slate Mine while walking across the Moelwyn Mountains in North Wales. Steve PA and Dan are pointing in entirely the wrong direction! We did find it eventually. Photo © Grace Chu 2018. | |
| | |
| Jenny walking down to the entrance to Ireby Fell Cavern. October 2014. Photo © Grace Chu. | Gareth looking down the entrance of Uamh a'Bhruthaich Chais Fhada (Long Drop Cave) in Appin, Scotland. 28th April 2013. Photo © Jenny Drake. |
| | |
| Outside Ye Old Crown in Waterhouses after a trip down Waterways Swallet, Staffordshire. 6th August 2016. Photo taken by a passing cyclist. Left to Right, Jenny, Steve, Steve, Grace & Heather. | Dan and Alan, deep in conversation in the Bulls Head, Monyash, after a trip to Knotlow Mine in Derbyshire. 18th May 2013. Photo © Mark Johnson |
| | |
| Sometimes we stay in huts owned by other caving clubs. The Shepton Mallet Caving Club hut is in the Mendip Hills has an adjustable squeeze box in the common room. Neil tries it out. Photo © Steve PA. | Helen PA inside the squeeze box negotiating the adjustable obstacles. Photo © Steve PA. |
---
Sometimes the getting to the cave doesn't actually get you underground. On 31st March 2013, we arrived at Swinsto Cave in the Dales to find the entrance covered in snow. Fortunately Des knew exactly where to jump up and down to get inside as this short video shows.
---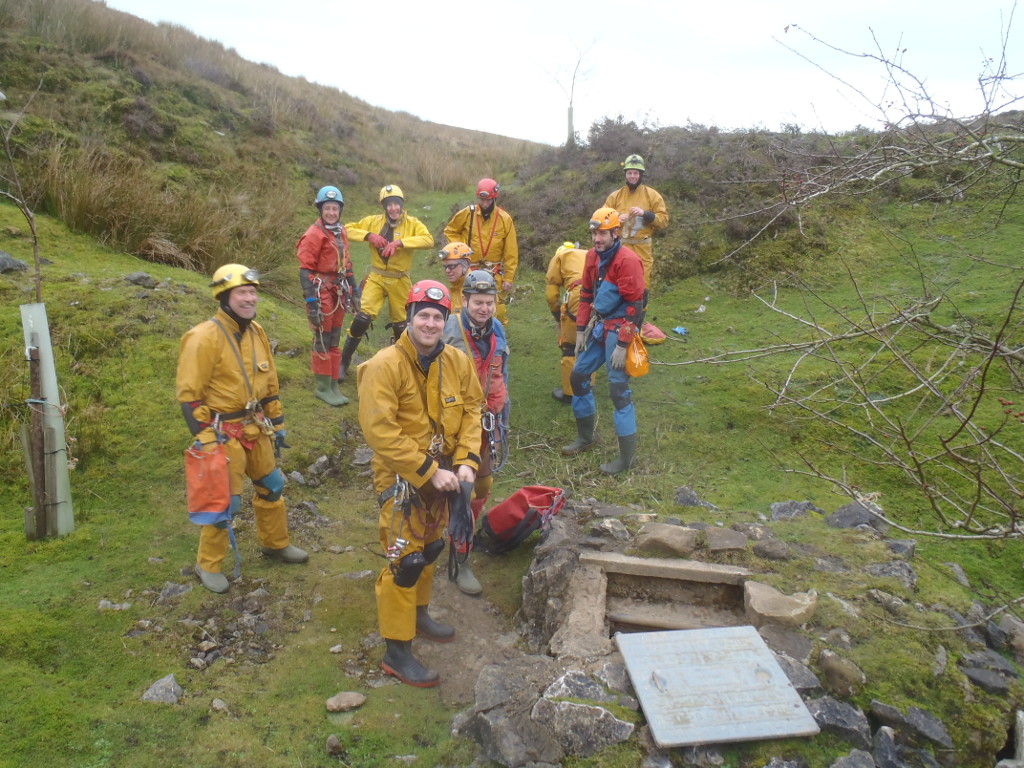 The team at the entrance to Notts 2 in November 2013, before descending.
Picture display using Lightbox.