Crewe Climbing and Potholing Club

Welcome!
We are an active and friendly caving club that welcomes both new and experienced cavers. Despite our name, we are mainly a caving club, though some members do climb as well. We are mostly based in Cheshire and Staffordshire, but some members live further away. Our caving and mine exploration takes place locally in the Peak District and Yorkshire Dales and further afield in this country and abroad.
Find out more about us.
If you are totally new to caving and want to know what it is all about, then read What We Do and Why We Do It.
---
Search the Site
Search the club's web site.
---
Latest News
The latest news from the club. Just the most recent updates appear here. All the news, including older news (olds?) can be found on the News page.
Newsletter 121, December 2019 Published
Read what we have been up to over the last few months among other things.
Waterways Swallet Car Park Work Day. November 30th 2019
Crewe CPC has carried out its now annual clearing of the vegetation from the cavers car park for Waterways Swallet. Alan Brentnall is writing a full report for the next Newsletter. In the mean time, here is a captioned photo.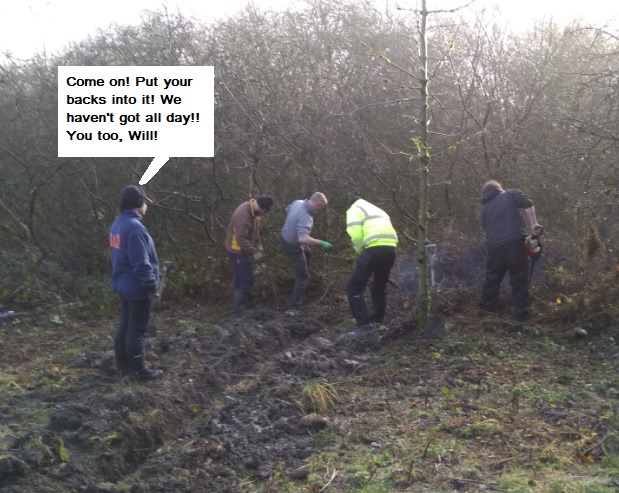 Waterways Swallet Car Park Gaffer. © Alan Brentnall 2019
Water Icicle Close Cavern. 23rd November 2019
A trip report by Jenny Drake
Six members were underground on Saturday visiting Water Icicle Close Cavern, near Monyash. We met at The Forge cafe, aka Ed's Cafe, in Monyash, where most of us opted for the cooked breakfast. A real belly buster. We met a couple of other cavers there, including a former Crewe member, who were off to Knotlow. Once the team had assembled, and been fed and watered we changed and set off for the cave. We hadn't got round to getting permission to take vehicles up Derbyshire Lane, so it was a mile long walk to the cave through the mist. The wet weather had made the end of the lane impassable to anything other than a full on off-roader anyway.

A 38m rope took us down the single pitch entrance mine shaft in through the roof of a natural cave T junction. Three ways lead off from here. We had Alan with us, who has a key to the Orpheus extensions to North West Passage. The padlock on the gate at the top of the aluminium ladder climb proved tricky, despite the can of WD40 Alan had bought with him and the can of oil left nearby. Eventually it opened and we were through in to the post 2010 extensions. The old miners never found this part of the system and the formations have been well preserved. This includes many of the recently discovered cold calcite crystals. There are also shattered conventional calcite formations, possibly from frost expansion during an ice age. We pushed ourselves to the ends of all the current dig faces we could find, before heading back to the surface.

After walking back, we got changed and paid a visit to the Bulls Head for a drink and warm ourselves from the roaring fire they had going.

Present on the trip. Steve PA, Dan, Ruth, Alan, Grace, Jenny.
---
Try Caving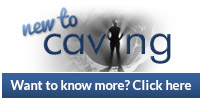 We can arrange supervised caving trips for individuals, or for small groups, with all equipment provided. Our ability to do this was initially funded through a National Lottery grant. If you are interested, then please get in touch.
---
Peak District Rigging Guide
Unsure of the state of play regarding P-bolts? Contact us or buy the guide!
Our guidebook covers all of the worthwhile SRT trips in the Peak District. Profits from the guides were used initially to fund the eco-hanger bolting project. Since its completion sizable donations have been made to Derbyshire Cave Rescue Organisation.
The guide is available from Starless River, Caving Supplies, or Inglesport.
---
News Feed & Social Media
We have an RSS feed with the latest club news and updates. We also have a Facebook presence.
---
Caving Conservation Code
As a club we aim to minimise the impact we have on the cave environment by following the BCA Caving Conservation Code.
Cave with care and thought for the environment.
Disturb nothing whether living or geological.
Avoid touching formations.
Keep to marked routes and never cross conservation tapes.
Take nothing but photographs.
Do not pollute the cave, leave nothing behind.
---
Risk Statement
As a club, Crewe Climbing & Potholing Club (C.C.P.C.) recognizes that the activities undertaken by Club Members may involve a danger of personal injury or death. As participants in such activities, all adult Members of C.C.P.C. (including Temporary Members) must be aware of, and accept, these risks, and must be responsible for their own actions, and for their own safety. [CCPC Risk Statement. 01-01-2015]
---
Attribution and Credit
Some content on the site is used under license from other sources. This page details their sources and the license used.
---
Des Kelly in Ireby Fell Cavern. Photo © Grace Chu 2014.
---
This web site is copyright © Crewe Climbing and Potholing Club , unless otherwise stated.