Crewe Climbing and Potholing Club

Welcome!
We are an active and friendly caving club that welcomes both new and experienced cavers. Despite our name, we are mainly a caving club, though some members do climb as well. We are mostly based in Cheshire and Staffordshire, but some members live further away. Our caving and mine exploration takes place locally in the Peak District and Yorkshire Dales and further afield in this country and abroad.
Find out more about us.
If you are totally new to caving and want to know what it is all about, then read What We Do and Why We Do It.
---
Search the Site
Search the club's web site.
---
Latest News
The latest news from the club. Just the most recent updates appear here. All the news, including older news (olds?) can be found on the News page.
30th May 2020. Two Films
Two films made by the late Ralph Johnson can now be viewed on the site. The Astbury Hydraulic Lime Company and Mow Cop Tunnels and Tramways. These were originally placed on line by the Mow Cop Interactive site, with permission from Ralph.
Update 15th May 2020
Derbyshire Caving Association have issued a statement on caving activities with the continuing pandemic. It covers the practicalities of meeting the current lock down requirements, keeping on good terms with the land owners, tenants and local residents on who we rely for access and the situation with rescue. Club trips are still not practical for both common sense reasons and being legal. In the mean time, the club has been keeping in touch by holding our monthly meetings via Zoom. This has allowed some members who live further away from our usual pub to attend, who we would not normally see.
Still No Caving!
Lock down means no caving. Our training officer Mark Krause has been giving us various exercises, like new knots to learn, to try and keep us amused. Caving fitness is draining away, as the only thing that really gets and keeps you cave fit is to go caving. The Web Wrangler has updated the picture Gallery pages by adding Lightbox to display screen filling pictures.
---
Try Caving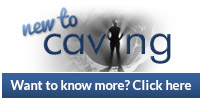 We can arrange supervised caving trips for individuals, or for small groups, with all equipment provided. Our ability to do this was initially funded through a National Lottery grant. If you are interested, then please get in touch.
---
Peak District Rigging Guide
The CCPC Peak District Rigging Guide has now moved on-line. Free to use by all cavers. Accessible by the link in the menu, or here.
---
News Feed & Social Media
We have an RSS feed with the latest club news and updates. We also have a Facebook presence.
---
Caving Conservation Code
As a club we aim to minimise the impact we have on the cave environment by following the BCA Caving Conservation Code.
Cave with care and thought for the environment.
Disturb nothing whether living or geological.
Avoid touching formations.
Keep to marked routes and never cross conservation tapes.
Take nothing but photographs.
Do not pollute the cave, leave nothing behind.
---
Risk Statement
As a club, Crewe Climbing & Potholing Club (C.C.P.C.) recognizes that the activities undertaken by Club Members may involve a danger of personal injury or death. As participants in such activities, all adult Members of C.C.P.C. (including Temporary Members) must be aware of, and accept, these risks, and must be responsible for their own actions, and for their own safety. [CCPC Risk Statement. 01-01-2015]
---
Des Kelly in Ireby Fell Cavern. Photo © Grace Chu 2014.
---
This web site is copyright © Crewe Climbing and Potholing Club 2019 to unless otherwise stated. Some content on the site is used under license from other sources. This page details their sources and the license used.