Crewe Climbing and Potholing Club

Welcome!
We are an active and friendly caving club that welcomes both new and experienced cavers. Despite our name, we are mainly a caving club, though some members do climb as well. We are mostly based in Cheshire and Staffordshire, but some members live further away. Our caving and mine exploration takes place locally in the Peak District and Yorkshire Dales and further afield in this country and abroad.
Find out more about us.
If you are totally new to caving and want to know what it is all about, then read What We Do and Why We Do It.
---
Search the Site
Search the club's web site.
---
Latest News
The latest news from the club. Just the most recent updates appear here. All the news, including older news (olds?) can be found on the News page.
Rigging Guide Update. Version 12.2. 16th February 2020
The rigging guide has been updated. Following our recent trip, we have updated and improved the topo for Victoria Aven and added a new topo for George Cooper's Aven. All the topos now have QR codes added. If you point a smart phone camera with the appropriate app at the code on a printed copy, it will take you to the appropriate Peakdistrictcaving.info page for access and location information. Some topos have additional QR codes that link to microguides, published by the DCA. If you have a printed copy of the guide, you'll need to print a new one as all pages have changed.
Lancaster Giant's Hole. 15th February 2020
The weather beat us again. The Lancaster Hole trip was canceled. Instead, we went to Giant's. A trip report from Steve PA.
Storm Denis put paid to our original trip into Lancaster today, so a hastily thrown together trip was arranged into Giants Hole Derbyshire instead. Eight members braved the conditions, some opting for breakfast at the Yondermans, while the rest made their way directly to the cave. Des made good use of his recent acquisition (new van), being well protected from the elements whilst getting changed. Not that he's getting soft I'll have you know.

Nine of us made our way to the entrance, the extra body being David who as a temporary member had made the journey from Grimsby as he had not caved for 9 months and never in the UK and wanted to brush up on his srt skills. Boss Aven was tackled initially by some of the party while others went to take a look Garlands and the Wet Inlets, with a view to putting up the rope for a pull through. Sadly they soon realised how gravity and volume, I'm being kind, can conspire against you, so joined the rest of us in Boss Aven. A very pleasant time was spent here with most of us getting up to the top with the aid of the in situ ropes.

Once all were safely back down it was decided for a second attempt on reaching the top of the wet inlets. It's true what they say, perseverance pays off. For those who have not been up there, a fine vadose passage traverses the stream below, which today was quite lively and ends at a sump to its north end and a purged sump the other end, with some fine formations thrown in. A 3 hour trip enjoyed by all with a pint and chips at one of Castletons hostelries.
Some pictures of the trip from Grace.
Gouffre Berger 2020
The club has been issued with a permit to descend the Gouffre Berger in France this summer. We have been there several times before, but this is the first Crewe CPC trip to the cave this century. See the report from the visit in 1983 for an idea of what will be involved. Lots of organising and lots of training to do between now and then.
---
Try Caving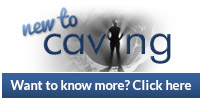 We can arrange supervised caving trips for individuals, or for small groups, with all equipment provided. Our ability to do this was initially funded through a National Lottery grant. If you are interested, then please get in touch.
---
Peak District Rigging Guide
The CCPC Peak District Rigging Guide has now moved on-line. Free to use by all cavers. Accessible by the link in the menu, or here.
---
News Feed & Social Media
We have an RSS feed with the latest club news and updates. We also have a Facebook presence.
---
Caving Conservation Code
As a club we aim to minimise the impact we have on the cave environment by following the BCA Caving Conservation Code.
Cave with care and thought for the environment.
Disturb nothing whether living or geological.
Avoid touching formations.
Keep to marked routes and never cross conservation tapes.
Take nothing but photographs.
Do not pollute the cave, leave nothing behind.
---
Risk Statement
As a club, Crewe Climbing & Potholing Club (C.C.P.C.) recognizes that the activities undertaken by Club Members may involve a danger of personal injury or death. As participants in such activities, all adult Members of C.C.P.C. (including Temporary Members) must be aware of, and accept, these risks, and must be responsible for their own actions, and for their own safety. [CCPC Risk Statement. 01-01-2015]
---
Des Kelly in Ireby Fell Cavern. Photo © Grace Chu 2014.
---
This web site is copyright © Crewe Climbing and Potholing Club 2019 to unless otherwise stated. Some content on the site is used under license from other sources. This page details their sources and the license used.