News

Old news from 2020.
---
2021 Meets List
The meets list for 2021 has been released. Covid-19 mocked our 2020 caving plans. Here is hoping 2021 is kinder.
Clatterway Levels Added to the Rigging Guide
Clatterway Levels, near Bonsall, is now in the rigging guide. A couple of short pitches, one of which can be free climbed by the proficient. This was originally planned to go in the guide in one of its early editions, but somehow got missed. We finally caught up with it!
Newsletter 124. Autumn 2020
Our editor Steve Knox has put together another Newsletter for us. A real challenge with so little caving being possible since the last one was published. It can be downloaded here.
DCRO Calendar
Derbyshire Cave Rescue Organisation have made a fund raising calendar for 2021, which has now gone on sale. Club member Gaz McShee has one of his photos inside. He is "Mr June"! One of these would make an excellent Christmas present and help DCRO fund the fine work they do. Purchase one here.
Lock Down Part Deux
The restrictions through November and beyond in England mean that all club disorganised trips have had to be canceled.
29th October 2020. P8 Car Park
Three club members have attacked the rampant vegetation threatening to overwhelm the cavers car park at Perryfoot, where people get changed for P8, Gautries Pot and other local caves. A photo of the result of their hard work can be seen here.
27th October 2020. Hagg Gill Pot
On Friday evening, three club members made their way to Buckden, ahead of the planned trip to Pasture Gill Pot on Saturday 24th. The weather was not kind, and the forecast led to a change of venue to Hagg Gill Pot, again in Langstrothdale. A fine three hour trip was had, with a return in rising water. A full report will likely appear in the next Newsletter.
14th October 2020. Rigging Guide Updates
The rigging guide is now at version 13.0. The JH Mine topo has been updated and corrected between the surface and the Workshop. Leviathan will need another trip, so the only change for this shaft is to spell the name correctly! In Nickergrove Mine, the option of using a deviation on the pull through pitch is mentioned to prevent rope rub. Useful if this pitch is rigged for ascent. For edition 13, the page numbers have all been put in sequence again to allow for the new pages and topos that have been inserted over the last ten months. If you have a printed copy, then this will need printing again.
12th October 2020. Trip Report. JH Mine
A trip report and photos, all by Gaz McShee, from a club visit to James Hall Over Engine Mine on 11th October 2020 can be read here.
10th August 2020. Old Newsletters
Nine old club newsletters from the early years of this century have been uploaded to the web site, between newsletter 70 and 80. The time period these cover includes the Foot and Mouth outbreak in 2001. Another occasion when pestilence rudely interrupted our caving fun.
5th August 2020. Snake Mine added to the rigging guide
The first of two topos have been added to the rigging guide for Snake Mine, Hoptonwood. This will guide you through a round trip down to the 230' level, an excellent trip. As usual with mines, watch out for stacked deads, only held up by rotting wood and force of habit. Only visit with permission of the land owner. See the DCA entry for details. Thanks to former club member Dan Lay for bolting the routes and providing the sketches on which the topo is based and to Alan Brentnall for suggesting its inclusion. A second topo will follow at some point with the rigging for the rest of the mine.
24th July 2020. Web Site Upgrade
The menu and navigation of the site has been upgraded with a "hamburger" style menu button in the top right hand corner of the page. This should make the site easier to use on mobile devices. This replaces the navigation side, or top bar.
20th July 2020. Eyam Dale House Cave. New Topo.
After a visit to the cave, a topo has been drawn for Eyam Dale House Cave in the rigging guide. This replaces the very brief description and rope lengths we had previously and should make route finding easier.
6th July 2020. Rigging Guide Correction
Following a report submitted by Larry Blanchard, a rope length in the Nickergrove Mine rigging topo has been corrected. The Rigging guide is now at version 12.7.
17th June 2020. Gouffre Berger Trip Canceled
Yesterday evening we held a Skype call between the people who had signed up to the clubs trip to the Gouffre Berger in France, planned for August. We sadly came to the decision to cancel the trip this year and apply for a new permit for next year. We were loath to do this, but the uncertainty and risk around the continuing COVID-19 pandemic made this the only sensible option. Hopefully we get to go in 2021 and have a successful expedition.
Newsletter 123. June 2020
Quite how he has managed with no club caving having taken place since the last newsletter I don't know, but our editor has put together another cracking read for us. Download it from the newsletters page.
30th May 2020. Two Films
Two films made by the late Ralph Johnson can now be viewed on the site. The Astbury Hydraulic Lime Company and Mow Cop Tunnels and Tramways. These were originally placed on line by the Mow Cop Interactive site, with permission from Ralph.
Update 15th May 2020
Derbyshire Caving Association have issued a statement on caving activities with the continuing pandemic. It covers the practicalities of meeting the current lock down requirements, keeping on good terms with the land owners, tenants and local residents on who we rely for access and the situation with rescue. Club trips are still not practical for both common sense reasons and being legal. In the mean time, the club has been keeping in touch by holding our monthly meetings via Zoom. This has allowed some members who live further away from our usual pub to attend, who we would not normally see.
Still No Caving!
Lock down means no caving. Our training officer Mark Krause has been giving us various exercises, like new knots to learn, to try and keep us amused. Caving fitness is draining away, as the only thing that really gets and keeps you cave fit is to go caving. The Web Wrangler has updated the picture Gallery pages by adding Lightbox to display screen filling pictures.
What To Do?
While caving is effectively banned, club members have been finding other things to do. Mark Lovatt has been scanning in old photographs. Some from the mid '70's at Knotlow Caverns can be seen on this gallery page.
Mark Krause has arranged for some Buffs Wufflers to be made available with the club logo in two styles, large/small logo and a variety of colours. A picture of a large logo one below in white on black.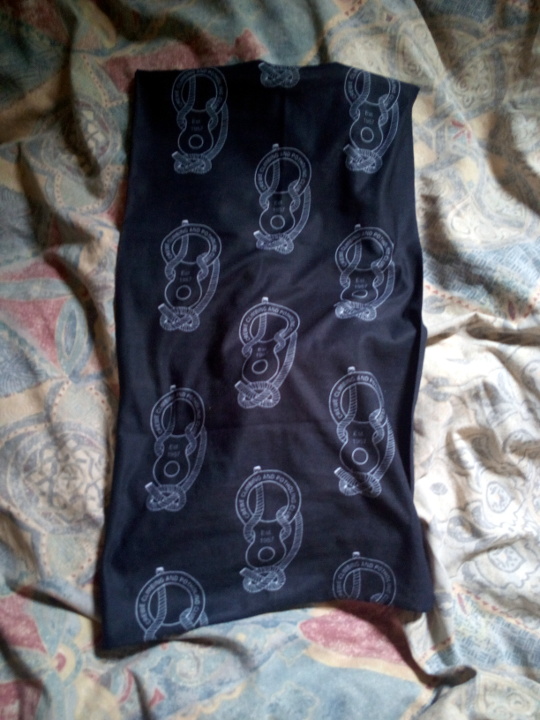 Newsletter 122 Published. Thursday 26th March 2020
Our esteemed editor has put together another bumper newsletter for our reading pleasure while we are all confined to barracks. Find it on the newsletters page.
Lock Down. Tuesday 24th March 2020
All our club disorganised caving trips are canceled while the COVID-19 lock down is in effect in the UK, starting with the Aygill Caverns trip planned for this weekend.
Keep safe everyone.
Corona Virus. Monday 16th March 2020
We are canceling our monthly meetings to reduce the risk of spreading the you know what virus until further notice.
Rigging Guide Version 12.6. A few updates and additions to the rigging guide. From our trip at the end of February we took notes to create a rigging top for the extensions to Rowter Hole from Gin Shaft to Crystal Orechasm. From our trip at the end of last year, we had enough information to create a rigging topo for Day Shaft, near Matlock There has been a correction to the rope length in to Pearl Chamber in Knotlow.
Rowter Hole and P8. Saturday 29th February 2020
Two trips and lots of Crewe members and guests underground on leap year day. Eight of us descended Rowter Hole heading to Gin Shaft and the extensions. Lots of tight awkward bits to negotiate, but also some spectacular pitches, especially with the amount of water tumbling down them. Almost like a Dales stream pot in character in places. People turned back at various points, sometimes finding that recent pie consumption had made the squeezes a bit tight, Some members got to Crystal Orechasm and took a look at the current digging areas. It seemed an age for people to prussik back up the entrance pitch, despite us rigging both the straight drop and the rebelay route. The surface was not a place to linger, with a strong, cold wind and later on sleet and snow coming in from the west.
Some photos from Grace.
Three people had an aquatic trip down P8, using a tarpaulin to divert some of the water away on the entrance climb. Many of us meet up at the George in Castleton afterwards for food and drinks.
Rigging Guide There have been updates to the Level 7 / Hope Shaft and to the Hungerhill Swallet topos in the last couple of weeks. The rigging guide is now at revision 12.4.
Rigging Guide Update. Version 12.2. 16th February 2020
The rigging guide has been updated. Following our recent trip, we have updated and improved the topo for Victoria Aven and added a new topo for George Cooper's Aven. All the topos now have QR codes added. If you point a smart phone camera with the appropriate app at the code on a printed copy, it will take you to the appropriate Peakdistrictcaving.info page for access and location information. Some topos have additional QR codes that link to microguides, published by the DCA. If you have a printed copy of the guide, you'll need to print a new one as all pages have changed.
Lancaster Giant's Hole. 15th February 2020
The weather beat us again. The Lancaster Hole trip was canceled. Instead, we went to Giant's. A trip report from Steve PA.
Storm Denis put paid to our original trip into Lancaster today, so a hastily thrown together trip was arranged into Giants Hole Derbyshire instead. Eight members braved the conditions, some opting for breakfast at the Yondermans, while the rest made their way directly to the cave. Des made good use of his recent acquisition (new van), being well protected from the elements whilst getting changed. Not that he's getting soft I'll have you know.

Nine of us made our way to the entrance, the extra body being David who as a temporary member had made the journey from Grimsby as he had not caved for 9 months and never in the UK and wanted to brush up on his srt skills. Boss Aven was tackled initially by some of the party while others went to take a look Garlands and the Wet Inlets, with a view to putting up the rope for a pull through. Sadly they soon realised how gravity and volume, I'm being kind, can conspire against you, so joined the rest of us in Boss Aven. A very pleasant time was spent here with most of us getting up to the top with the aid of the in situ ropes.

Once all were safely back down it was decided for a second attempt on reaching the top of the wet inlets. It's true what they say, perseverance pays off. For those who have not been up there, a fine vadose passage traverses the stream below, which today was quite lively and ends at a sump to its north end and a purged sump the other end, with some fine formations thrown in. A 3 hour trip enjoyed by all with a pint and chips at one of Castletons hostelries.
Some pictures of the trip from Grace.
Gouffre Berger 2020
The club has been issued with a permit to descend the Gouffre Berger in France this summer. We have been there several times before, but this is the first Crewe CPC trip to the cave this century. See the report from the visit in 1983 for an idea of what will be involved. Lots of organising and lots of training to do between now and then.
Peak Cavern. 2nd February 2020
A trip report from Jenny Drake:
Lots of us in Peak Cavern yesterday. Two main trips. One team doing the "tourist" trip, seeing the best bits of the system, including a novice who recently got in touch with the club. The other team was five strong and went up the spectacular Victoria Aven and explored the SRT route down George Cooper's Aven to the vast Echo Aven, with extensive mud formations on the floor. Lots of loose rock around, so great care was needed. Good to see John Gillet underground. We were mostly all out at near the same time, so met up at the George for a drink after getting changed. Tony Seddon's mobile caving shop was at the TSG, drawing out some of our wallets.

Jenny
Women in Adventure Film
The only caving film in the BMC's 2020 Women in Adventure competition. See if you can spot the CCPC members! Made by Antonia and Andy Freem of SWCC. There is a prize for the most watched, so here it is.
First Update of the Peak District Rigging Guide to Version 12.1
The Level 7 / Hope Shaft topo has been updated to remove the grid references. Locations are now on the Peak District Caving site. We discovered that the grid reference to Hope Shaft was out by over 100m. Something that had not been spotted in all the years that the guide has been in existence! In addition, the Pallet Shaft and Hillside Shaft entrances to Nickergrove Mine have now been added to the Peak District Caving site. If you have a printed copy of the guide, then please visit the guide page and download and print the two pages needed to bring your guide up to version 12.1. Thanks to the DCA's Phil Wolstenholme for helping with this.
Peak District Rigging Guide goes On Line
The CCPC Peak District Rigging Guide is now on line. Free to use by all cavers. Accessible by the link in the menu, or here. It has been revised since the eleventh edition, with all the rigging topos redrawn and updated where we know of changes. Several new topos have been added.
Flower Pot to Merlin's Mine. 5th January 2020
Our first official club trip of the year. A through trip from Flower Pot, via Carlswark Cavern, to Merlin's Mine in Stoney Middleton. Tight in places and very sporting. A report from Rob Nevitt:
Six members turned out for this one, Ade, Alan, Dan, Jenny, Steve PA and myself. Alan decided not to do the though trip but offered to put the ladder in Merlin's for our route out and meet us underground at some point. As we found out later after not seeing him rocks had fallen on his hand and shoulder changing his plans. Our route though wasn't as dramatic, but all the tight squeezes, twists and turns made for a good days caving with some of us getting stuck or going the wrong way at some point. We finally emerged looking like chocolate soldiers! Ade tried cleaning up in a grated channel at the side of the road to our amusement. After changing we had a well deserved beer at the Miners Arms in Eyam.

Rob
---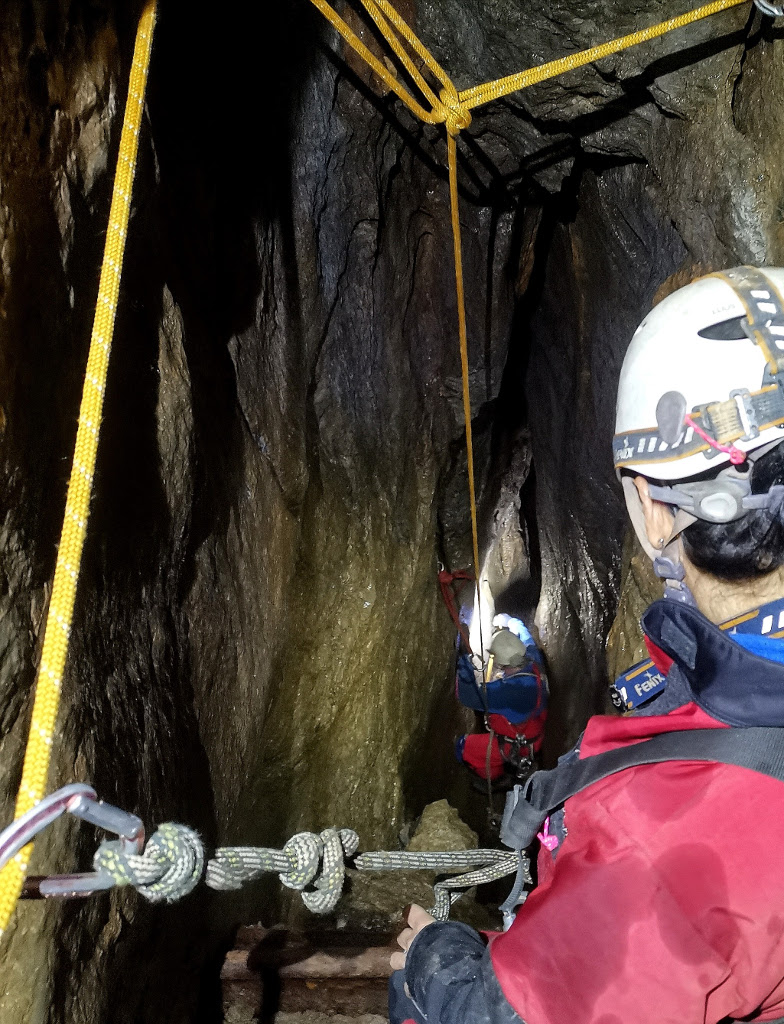 Snelslow Swallet. Photo © Gaz McShee 2020.